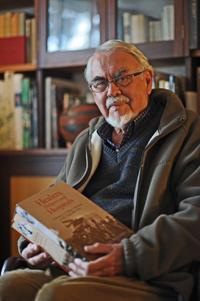 Prof JC (Kay) de Villiers has won the 2011 UCT Book Award for his work Healers, Helpers and Hospitals: A history of military medicine in the Anglo-Boer War. He will receive his award at graduation this week.
The fields of history and medicine converge in the 2011 UCT Book Award winner, Healers, Helpers and Hospitals: A history of military medicine in the Anglo-Boer War.
Written by Professor JC (Kay) de Villiers, who formerly held the Helen and Morris Mauerberger Chair of Neurosurgery at UCT, the two-volume work focuses on that far-reaching conflict, fought at a time when war killed more people through disease than through wounds.
This was a critical period in the evolution of modern medicine, when new techniques such as radiology and anaesthesia had to be adapted to wartime conditions, while new surgical specialities emerged to meet battlefield needs.
The first volume focuses on the history of health practitioners and organisations on both sides of the conflict, as well as the development of the war itself. Volume 2 digs into the heart of the conflict's clinical issues, such as bullet, shell and (the then-novel) high-velocity missile wounds. Innovations and treatments for typhoid, plague and psychiatric disorders (which were often overlooked) are explained, from the conventional to the colourful - such as folk remedies and maggots.
This work serves not only to document these important facts, says De Villiers, but also to pay tribute to those who "attempted to honour the tenets of the healing professions", often very far from home and under trying circumstances.
Two Meritorious Publication Awards were also bestowed on UCT writers. Dr Jeremy Wanderer of the Department of Philosophy received the award for Robert Brandom, on the work of the renowned philosopher, and Associate Professor Imraan Coovadia of the Department of English Language and Literature for his novel High Low In-between.
The awards will be presented at the June graduation this week.
---
This work is licensed under a Creative Commons Attribution-NoDerivatives 4.0 International License.
Please view the republishing articles page for more information.
---