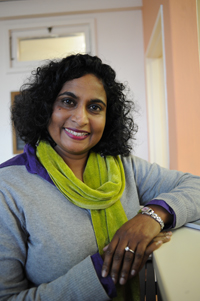 Fighting spirit: Dr Jennifer Moodley's PhD thesis calls for effective cervical cancer treatment in South Africa.
Dr Jennifer Moodley tackles her subject with a political activist's sense of justice. Her thesis, Prevention of Cervical Cancer in South Africa: Opportunities and challenges is a call to arms to the healthcare system to fight more effectively against this highly preventable disease, which remains one of the greatest killers of women in developing countries.
"In first-world countries, prevention has been highly successful because they have organised Pap smear screening programs," says Moodley. "But in South Africa until recently, cervical cancer wasn't even on the health agenda."
Although policy guidelines for preventing cervical cancer first came out in 2000, its implementation has been a struggle.
The recent development of a vaccine against the human papilloma virus (the cause of cervical cancer) offers great potential for the prevention of cervical cancer in South Africa. Moodley explains that although the vaccine is highly effective, it's also incredibly expensive, and only available in the private sector. It's a frustrating situation that can only be resolved by the government and big pharma negotiating a lower price.
As always, the problem is complex. "Ultimately," says Moodley, "successful prevention of cervical cancer is South Africa requires renewed political commitment, adequate resource allocation and an investment in health systems development."
A senior public health specialist at the Department of Health in the Provincial Government of the Western Cape and a senior researcher at UCT's Women's Health Research Unit in the School of Public Health and Family Medicine, Moodley was recently appointed as the South African lead doctor for Global Doctors for Choice, an international organisation advocating reproductive health rights.
"It is an exciting challenge," says Moodley. "Women's Health is a major interest of mine and I would be really happy if I could make a difference in their lives."
Family is an important part of Moodley's life and she clearly enjoys being involved in the lives of her busy children, Sarah and Udarshan.
With her June graduation, Moodley will share the podium with Women's Health Research Unit colleague Dr Jane Harries, who will also receive her PhD at the ceremony.
---
This work is licensed under a Creative Commons Attribution-NoDerivatives 4.0 International License.
Please view the republishing articles page for more information.
---