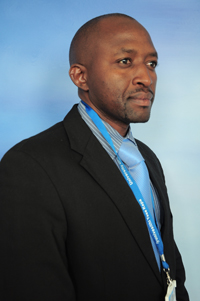 Enabled: Justus Nthitu graduates with distinction for his master's degree in disability studies.
This week Justus Nthitu will become the first UCT graduand to receive a distinction for a master's in Disability Studies, this for his thesis Teacher's Perspectives on Inclusion of Disabled Learners in Botswana. He spoke to Monday Paper about his achievement.
What got you interested in disability studies?
There are a number of factors; firstly, my experience in working with disabled children. I realised the barriers these children face, especially in schools. To secure admission they have to be assessed by various professionals who decide on their placement. This is quite contentious. I wanted to contribute to the global debate on education placement for disabled learners. Secondly, I'm disturbed by the disability/charity comparison, especially in my experience in Kenya and Botswana, where services to disabled people are regarded as charity. I question why the majority of disabled people live in poverty.
How does your thesis address this issue?
The study investigated teachers' perspectives on the inclusion of disabled learners in Botswana. This included their views on educational placement for disabled learners and on the types of support needed to include disabled learners. The findings show that teachers lack a clear understanding of inclusive education. The study recommends teacher training and development, and an evaluation of current special education units.
What made you come to UCT?
The flexibility in course structure, which meant I did not have to forgo my job, so I could still support my family. Equally important was the Recognition of Prior Learning policy, which meant I qualified to pursue a master's degree despite having only a diploma as my highest qualification. And of course, the fact that UCT is renowned for excellence in research.
Where do you plan to go from here?
I would love to further my studies - probably to become a professor so I can influence others through lectures and publications.
---
This work is licensed under a Creative Commons Attribution-NoDerivatives 4.0 International License.
Please view the republishing articles page for more information.
---