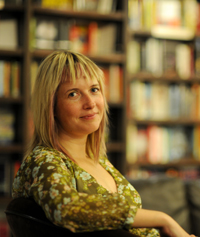 Mind-bending: Lauren Beukes has made her mark on the literary world by winning the Arthur C Clarke Award for her novel Zoo City.
Alumna Lauren Beukes made literary history when she became the first South African to win the Arthur C Clarke Award, considered the most coveted honour for science fiction writing published in the UK.
Beukes bagged the award and the £2 011 purse for her second novel, Zoo City, released in 2010. She was something of a dark horse, beating out hot favourite Ian McDonald, whose The Dervish House trumped Zoo City for the British Science Fiction Association (BSFA) best novel award only days before, and the likes of Richard Powers (winner of the US National Book Award) and Patrick Ness (winner of the Guardian children's fiction prize).
Published by Angry Robot Books, Zoo City is set in a dystopian and alternate Johannesburg where human sensibilities or guilt can take on real animal form - animals who tag along with their human mates, à la (but not quite) Philip Pullman of His Dark Materials fame. The lead character, for example, is saddled with a sloth on her back.
Borrowing from classic SF, urban fantasy, magic realism and cyberpunk, among other science fiction sub-genres, as well as African mythology and popular culture, the book has received rave reviews since its release.
While she doesn't want to be pigeonholed as only a science fiction writer, Beukes is an avowed fan of the genre in all its forms. And, as the groundbreaking movie District 9 has shown, it offers new ways to look at South Africa, she points out.
"I think science fiction is at its most interesting when it's used to distort reality in such a way as to get a fresh perspective on reality."
---
This work is licensed under a Creative Commons Attribution-NoDerivatives 4.0 International License.
Please view the republishing articles page for more information.
---