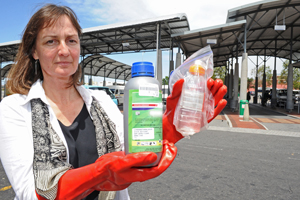 Dr Andrea Rother.
The Faculty of Health Sciences recently launched the inaugural Postgraduate Diploma in Pesticide Risk Management, convened by Dr Andrea Rother, health risk management programme leader in the Centre for Occupational and Environmental Health Research.
The course brought together students from Fiji, St Lucia, Botswana, Kenya, Lesotho, Malawi, Mozambique, Tanzania, Zambia and Zimbabwe.
Deputy vice-chancellor Professor Thandabantu Nhlapo officially welcomed the 18 students, who were on campus for two weeks, before returning to their home countries to complete the coursework online, making use of UCT's Vula system. They will return at the end of 2012 to write final examinations and graduate.
Nhlapo said the programme highlighted Afropolitanism as a key strategic goal. "People who are assets in our countries don't have to go abroad to study the issues of Africa, and we are not sitting in South Africa, isolated from the rest of Africa and its issues," he said.
Rother acknowledged the role of the United Nations' Food and Agriculture Organisation (FAO), who approached her two years ago to initiate the course around the UN Code of Conduct on the Distribution and Use of Pesticides. This covers the regulation of pesticides, the health effects of pesticide use, and toxicology and ecotoxicology training. The course is funded by the FAO and the Swedish Chemical Agency.
Prof Mohamed Jeebhay, acting head of the School of Public Health and Family Medicine, described the course as "another feather in our cap in terms of our outreach programmes".
All the materials developed for this course are open source and available as a resource to both participants and the general public.
---
This work is licensed under a Creative Commons Attribution-NoDerivatives 4.0 International License.
Please view the republishing articles page for more information.
---