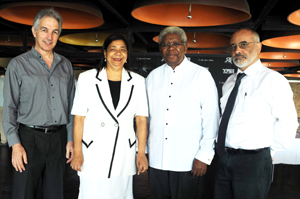 Meeting of minds: Photographed at the launch of the UCT Transformation Month were (from left) Dr Max Price, Glenda Wildschut, Archbishop Njongonkulu Ndungane and Prof Crain Soudien.
Launching UCT's first Transformation Month at an event at the beginning of March, members of the UCT executive, the Chair of Council, the director of the Transformation Services Office (TSO) and keynote speaker, Dr Pregs Govender, deputy chairperson on the South African Human Rights Commission (SAHRC) drew the audiences' attention to the importance of transformation in all spheres of life on campus and elsewhere in the country.
Vice-chancellor Dr Max Price said transformation remained a priority at UCT. "As articulated in our Strategic Plan our primary transformation aim is towards non-racialism through active redress, welcoming diversity, fostering inclusivity and recognising African voices."
"Transformation Month embodies all those objectives and in the process will help challenge gender, race and other stereotypes that keep our society locked in the past, as well as help dispel stigma associated with HIV/ AIDS and misconceptions related to disability."
TSO director Glenda Wildschut said transformation referred to the process of change in societal values and norms, as well as the shifts in institutionalised relationships that take place over time.
She said it was fitting that Govender, a Commissioner of the Human Rights Commission, should deliver the keynote address, because transformation at UCT had always been framed within the context of human rights. "This philosophy of human rights is also what underpins the programme of events and lectures over the next four weeks."
Chair of Council the Most Reverend Njongonkulu Ndungane said that as a nation South Africans were fortunate to have a code of human conduct, contained in the values of Ubuntu, which helps people reflect on their shared humanity. "As an academic community striving to be morally responsible, UCT is in the privileged position of shaping creative, innovative and imaginative individuals who will in turn transform the world as the spirit of Ubuntu prevails."
He urged the UCT community to keep up the good work it was doing with regard to transformation.
Deputy vice-chancellor Professor Crain Soudien added that UCT finds itself in a time and place where it is thinking deeply about what it is and how it goes about its business. At its heart, transformation is about creating a university that is hospitable to all, he said.
Govender placed transformation at UCT into a national and global context, saying that the transformation of any institution could not be separated from the transformation happening in general society. She spoke of how young people can be pivotal in changing the world, as illustrated by recent events in the Middle East.
"The decision by the Transformation Services Office (TSO) to make March 2011 Transformation Month has been very important for the University of Cape Town. It has added a very important public dimension to the wide range of activities being undertaken by the TSO. Each of the events has been memorable in its own way. Important about all of them is that they highlighted key issues being faced with respect to HIV/AIDS, disability and mediation by the University community. Responses after each of the events suggest that they precipitated intense debates and discussion. This is exactly what the TSO hoped for. I wish to thank everybody who participated in our events, particularly our guest speakers, performers and artists. I also wish to thank our director, Glenda Wildschut, and her colleagues in the TSO for taking this initiative."- Prof Crain Soudien.
---
This work is licensed under a Creative Commons Attribution-NoDerivatives 4.0 International License.
Please view the republishing articles page for more information.
---