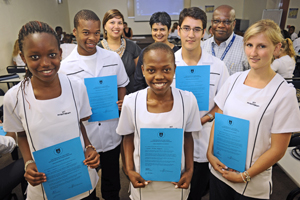 Careful conduct: Lecturers Shamila Manie, Assoc Prof Shajila Singh, and Prof Seyi Amosun (back) celebrate with students (middle, from left) Siyabonga Zulu and Niki Machida; and (front, from left) Nadia Umuneza, Diana Kgokong and Kathryn Waterman, at the oath ceremony for physiotherapy students.
As is the custom each year, second-year physiotherapy students undertook to sacrifice certain habits, including flashy hairstyles and jewellery, to abide by their professional code of conduct when engaging with patients.
Prior to the commencement of their clinical rotations, the students took an oath to fulfil their duties to themselves, their patients, society, the profession, their colleagues and other professionals.
At the recent oath ceremony, Associate Professor Shajila Singh (head of the Division of Communication Sciences & Disorders) delivered a lecture on professional ethics and called on the students to respect patients' rights and render an equal service.
"Whether you are treating the son of a prominent politician or a person from an informal settlement, the level of your service should be the same," Singh said.
It's not about rules, however, Singh said; it's about the heart and the mind wanting to provide services in an ethical and professional way.
"Show empathy, warmth, compassion and tolerance. That will make you excellent physiotherapists."
Singh reminded students that they represent themselves, the university and the profession, and should conduct themselves in a way that will honour those constituencies.
---
This work is licensed under a Creative Commons Attribution-NoDerivatives 4.0 International License.
Please view the republishing articles page for more information.
---