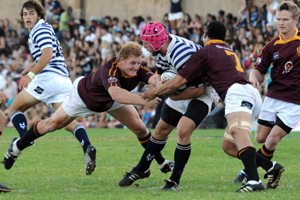 Ikeys captain Nick Fenton-Wells is well-covered by Helmut Lehman (left) and Johannes Reuben (7). View footage.
There's some serious thinking ahead for the Ikey Tigers following its crushing 16-37 defeat at the determined hands and feet of Stellenbosch University's Maties in the old rivals' Varsity Cup clash at UCT on 7 March. Gone was the Tigers' trademark running game, wayward went their passes and their set pieces fell to pieces as Maties piled on the pressure and the tackles with a physical, methodical game plan.
All night Maties made UCT pay dearly for handling errors - and there were many. Leading 30-16 but still short of a bonus point and with UCT showing signs of rallying, Maties rubbed salt into the Ikeys' wounds - and bagged that bonus point - with a late fourth try from yet another errant UCT pass.
The defeat knocked UCT off the top of the Varsity Cup log, Maties now setting the pace with 21 league points to UCT's 19. (The University of Pretoria and the University of Johannesburg lie third and fourth, respectively, both on 17 points.)
UCT players and coaching staff looked a little shell-shocked after the match. And there were theories aplenty as to what went wrong: the Maties' sixteenth man (aka the referee), suggested some; the UCT players were too flatfooted, allowing the Maties to run full-steam at them, said others.
"We were bullied," summed up coach Kevin Foote.
But there's no time to dwell on the mistakes, added Foote. "We've got to bounce back from this quickly - we've got to come out blazing now."
With just two games left, UCT should still be confident of securing a sought-after semi-final berth. But they have two tough games ahead; on 14 March they play Johannesburg at home, and the Monday thereafter, 21 March, they travel to Pretoria to play Tukkies in their last group match.
If UCT can return to their winning ways - and there's nothing from their previous performances to suggest that they can't - a third Ikeys/Maties final in the Varsity Cup's four years is likely to be on the cards.
But Monday's defeat will be a painful reminder to the Ikeys that they will have to shape up if they wish to stop the Maties juggernaut.
---
This work is licensed under a Creative Commons Attribution-NoDerivatives 4.0 International License.
Please view the republishing articles page for more information.
---