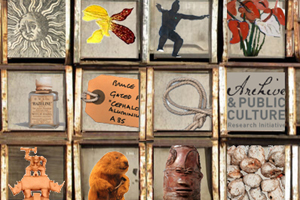 File system: ARC's visualisation of the university's columbarium.
A university-wide project to establish a network of "archive activists", bring together archival and curatorship projects at UCT and provide a platform for greater involvement in the public domain is now in its online trial phase.
ARC (Archive and Curatorship): The Visual University and its Columbarium, initiated in June 2010 and boosted by a Vice-Chancellor's Strategic Grant, seeks to break archival silences, to examine archival systems critically and open routes to new forms of knowledge.
"ARC-online is being developed to become a high-profile aspect of UCT's public face, providing public access to the university's collections and different ways of understanding them," explains ARC manager Niek de Greef. "Increasingly, world-wide curation of collections happens in electronic formats. The website provides an accessible, public window to UCT's research excellence."
The website is set to launch officially in August.
The project is spearheaded by the holder of the National Research Foundation's chair in Archive and Public Culture, Professor Carolyn Hamilton, and Professor Pippa Skotnes, director of the Centre for Curating the Archive at the Michaelis School of Fine Art.
"ARC sees the archive as inclusive of visual and object collections, and actively positions UCT as alert and responsive to increasingly visual and new media forms of knowledge production across the disciplines," says Hamilton.
De Greef says that as it grows, the project aims to participate in developing university-wide policies for the research and curation of archives, and to establish UCT as a place to deposit valuable collections for innovative research. Already the project is developing a postgraduate focus in curatorship, and is forging relationships with other institutions in the city.
"We are seeking to fuel investigation into new forms of visual methodologies of research," says De Greef.
"We hope ARC will become part of the way UCT understands itself," says Skotnes, "We would like ARC's strategies for accessing, studying and representing both our own and other collections and archives to become integrated with other forms of scholarship within the university."
---
This work is licensed under a Creative Commons Attribution-NoDerivatives 4.0 International License.
Please view the republishing articles page for more information.
---