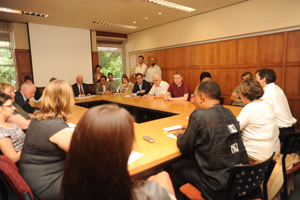 Warm welcome: Deputy vice-chancellor Prof Thandabantu Nhlapo (right) welcomed the visiting MEPs to UCT.
Deputy vice-chancellor Professor Thandabantu Nhlapo welcomed six Members of the European Parliament (MEPs) on 25 February, who were here to observe the most advanced tuberculosis vaccine clinical trial on infants in the world.
The trial in Worcester is being conducted by UCT's South African Tuberculosis Vaccine Initiative (SATVI), the world's leading TB vaccine clinical research group, in partnership with the European- based Oxford-Emergent Tuberculosis Consortium and the US-based group Aeras.
"UCT's mission is internationalisation with an Afropolitan niche," said Nhlapo, "which means our goal is to be internationally competitive while focussing on Africa. The European Union has been absolutely wonderful in supporting our mission."
The visiting MEPs were Michael Cashman (UK), Giles Chichester (UK), Bernd Lange (Germany), Judith Sargentini (Netherlands), Alf Svensson (Sweden), Roeland van de Geer (Netherlands), and Sabine Verheyen (Germany).
The new vaccine was developed in Europe, so the MEPs were especially interested in hearing about its progress.
Vaccine developer Dr Helen McShane of Oxford University in the UK was also here to report to the MEPs. "So far," McShane said, "the trial has progressed smoothly with no safety concerns experienced among the 2537 babies vaccinated to date."
SATVI principal investigator, Dr Hassan Mahomed, added that the community's positive response to the trial is due to their willingness to be part of the fight against TB, which is ravaging their community.
The trial, which has generated worldwide media attention, is expected to run until 2012.
---
This work is licensed under a Creative Commons Attribution-NoDerivatives 4.0 International License.
Please view the republishing articles page for more information.
---