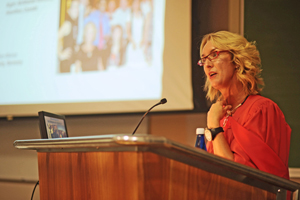 Hearty talk: Prof Karen Sliwa delivers her inaugural lecture.
After Professor Karen Sliwa delivered her inaugural lecture on 16 February, colleague Professor Valerie Mizrahi described her as the "consummate clinician/scientist", someone whose work stretches "from the intricacies of cell biology and genetics through to primary health care and intervention". And she is always thinking of the "wellbeing of the patient and the population", Mizrahi added.
These aspects of her work were clearly illustrated in Sliwa's inaugural lecture this month, Capturing and Preserving the 'Heart' of Africa, her coming-out as UCT's new professor of cardiac research and successor to Professor Lionel Opie as director of the Hatter Institute for Cardiovascular Research in Africa.
Worrying statistics
Firstly - the primary health care and intervention focus - Sliwa spoke of the surveillance of cardiovascular risk factors and disease, specifically in Africa. She pointed out that chronic disease, especially cardiovascular disease (alongside diabetes and cancer), is fast becoming the leading cause of death and disability worldwide.
More worrying is that 80% of deaths from chronic disease occur in low- and middle-income countries.These are statistics that Sliwa confirmed in the Heart of Soweto Study, a ground-breaking project that she established and led at Wits University to look into the emerging causes and consequences of cardiovascular disease in South Africa, specifically in a community in transition. In that study, she and colleagues screened over 8 000 people between 2006 and 2008, and started a primary care registry of the 1 300 patients at risk for cardiovascular disease, particularly because of hypertension (aka high blood pressure).
In addition, they also launched an intervention trial, a study now managed from the Hatter Institute.
As the Heart of Soweto Study also demonstrated, the burden of chronic disease is growing in South Africa, spurred on by obesity and hypertension, said Sliwa. "It will be a challenge to prevent the escalation of this problem."
Disease that kills women
Underpinning that big picture, however, is a series of "interesting" cardiac diseases, said Sliwa. One that attracted her attention is peripartum cardiomyopathy, a condition more common in Africa than in other parts of the world.
This often-fatal condition - it kills about 20% of patients affected - is a rare disorder in which women are diagnosed with a weakened heart within the final month of pregnancy or within five months after delivery. So feeble is the heart that it cannot contract forcibly enough to pump enough blood to the rest of the body.
"These are totally healthy women; they get a child, they go home, and they develop this disease," explained Sliwa.
Scientists struggled to pin down a determinable cause of the heart failure, however; even after looking at a number of possible suspects, such as autoimmune response and genetic factors.
It was only through a chance meeting with Denise Hilfiker-Kleiner, now professor of molecular cardiology at the Hannover Medical School in Germany, that Sliwa struck a possible answer. In work totally unrelated to peripartum cardiomyopathy, Hilfiker-Kleiner had found that many of her model mice would die after giving birth, for some inexplicable reason.
Genetic trigger
A conversation over a cup of coffee grew into a five-year study into how a dearth of STAT3, a gene that triggers a series of chemical pathways, could lead to heart failure. By 2010, the two reported in a proof-of-concept study that treatment with a drug known as bromocriptine could preserve blood vessel formation and cardiac function, and so make up for the STAT3 deficiency.
This is but one of the research studies that Sliwa has introduced to the Hatter Institute. Another is the Heart of Africa, the umbrella title for a medley of projects that follow up and expand on the Heart of Soweto study into eight sites in Africa.
So Sliwa is shaking things up at the Hatter Institute. Little wonder, then, that she's earned a couple of nicknames at UCT already.
On the night of her inaugural, Professor Bongani Mayosi, head of the Department of Medicine, assigned one: Lindiwe, which in isiXhosa means 'the one we have been waiting for', and is given to a bride taken from another nation. (Sliwa was born in Germany.)
The first nickname Sliwa overheard at UCT may be more apt, however: Hurricane Katrina.
.
---
This work is licensed under a Creative Commons Attribution-NoDerivatives 4.0 International License.
Please view the republishing articles page for more information.
---