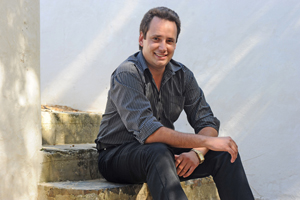 International podium: Master's student Garreth Bloor delivered two papers at the 9th Hawaii International Conference on Arts and Humanities.
Master's student Garreth Bloor delivered two research papers, on profit and ethics and on entrepreneurship, at the recent 9th Hawaii International Conference on Arts and Humanities. Bloor was one of only two postgraduate students to enjoy a spot at the podium.
Bloor focused on how developing societies can make a normative case for the values of entrepreneurship, while being consistent with their own cultural values and avoiding the individualism that has crept into much of what is understood to be enterprise.
His papers distinguished between existing business entities and corporations and the small business enterprise, highlighting the creative nature of the latter and its importance to overall development.
"The main goal of the conference was to provide an opportunity for academicians and professionals from various arts- and humanities-related fields from across the world to come together and learn from each other," explained conference co-ordinator Darren Garvey. The annual meeting is sponsored by the University of Louisville in Kentucky, US.
The 'ethics of entrepreneurship' is particularly pertinent to developing countries such as SA.
"South Africa urgently requires the creation of five million jobs. Government and academics have identified small businesses and the entrepreneurs who start them as integral to this process.
"The question is, how to we expand this objective of SME development from being not just about economics, but about setting a tone where we have SMEs and entrepreneurs seeing themselves as key players in meeting South Africa's national goals for growth and job creation?
"The idea is not to romanticise the entrepreneur, but rather to see how their profit-driven objective ties in with the broader consequences of job creation. How do we create a discourse that synergises the entrepreneur and our national objectives?"
(Bloor is a current member of the UCT Council and the Honorary Degrees Committee, and a former SRC Vice President (2008). Some of his work will appear in the upcoming edition of the Journal of Entrepreneurship and Public Policy. See his article, written after the recent Fortune/CNN/Time conference in Cape Town.)
---
This work is licensed under a Creative Commons Attribution-NoDerivatives 4.0 International License.
Please view the republishing articles page for more information.
---