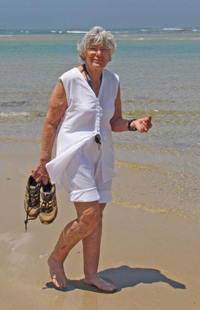 Marianne Balarin makes most 20-somethings look a lacklustre lot. At 76, this mother of four, granny of five and half-marathon veteran will receive a PhD for her work on phytoplankton from UCT later this week.
There is no sitting pretty here. After learning in September that her thesis had been accepted, she made her granddaughter's wedding dress (the wedding was in November), one of the bridesmaid's dresses, her own dress and that of her daughter, mother of the bride.
She runs, too; and this is not just 'going round the block' running, either. When Balarin took up running in 2000, she used to do half marathons.
"I have trophies from each year," she laughs.
These days she mostly runs tenners, racking up an astonishing 518kms between 16 June 2009 and 16 June 2010.
As someone who's surfing through her late 20s, I leave the interview thinking: 'I want to be like that when I grow up'. So how did a girl who grew up in Nazi-occupied Holland discover a love for drifting ocean organisms?
The Pieters family immigrated to South Africa in 1949, and Balarin completed her schooling at Hoër-skool Jan Van Riebeeck in Cape Town. After school, she registered for a BSc at UCT, but found the jump from Afrikaans to English-medium learning difficult.
She moved to what was then Rhodesia, got married and qualified as a teacher from the Bulawayo Teachers Training College (HDE). She started a family and taught for 16 years at various schools in Salisbury (Harare), returning to South Africa in 1977.
When her youngest, Jody, finished school, Balarin returned to university and read for her BSc, BSc honours and master's degrees at Rhodes University.
"At first I thought I'd complete a BSc and that would be that, but the bug had bitten and I just kept going."
She keenly remembers the last year of her BSc, when she did a project in growing phytoplankton, which involved a lot of electron microscope work.
"The head of botany liked the pictures so much that a few of them were hung in the botany library. They're still there," she says.
Her studies provided her with opportunities to carry out research off Marion Island and Antarctica, where she spent one Christmas on board the oceanographic research ship, the Agulhas. Brings new meaning to having a white Christmas!
"Imagine perfect stillness (there's nothing to reflect sound) and the whitest white."
She moved back to Cape Town in 2000 and registered for a PhD at UCT.
Her thesis, Comparative laboratory study of photo-acclimation in selected dinoflagellate and diatom species of the Benguela Ecosystem, investigates the different responses to light in two groups of phytoplankton, one of which is motile and the other tending to sink.
In a turbulent upwelling environment, diatoms (mixers) are exposed to rapid changes in light level, whereas dinoflagellates (migrators) are favoured by calm conditions under which they can swim up to an optimum environment.
She found that diatoms were more efficient in utilising light at high intensities, while small-celled dinoflagellates were most efficient in low light.
After graduation and spending time with the family who live in
Franschhoek, she will return to her riverside home in the Eastern Cape for Christmas.
"But first, while I'm here, I need to get back to the gym," she says. A recent Achilles injury put her out somewhat.
"I'm not a fanatic; but I do love my gym."
And what's planned for the new year?
"My supervisor, Professor John Field, is encouraging me to explore academic writing, but we'll see."
Balarin is also not the only member of her family with UCT ties: also on the UCT academic staff are her son, Emlyn, who heads up the MA-RE institute for marine research, and daughter-in-law Dr Isabelle Ansorge, a lecturer in the Department of Oceanography.
---
This work is licensed under a Creative Commons Attribution-NoDerivatives 4.0 International License.
Please view the republishing articles page for more information.
---