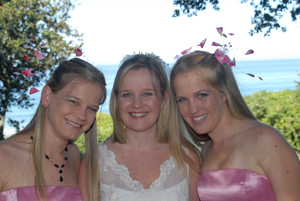 One, two, three: The Westcott sisters (from left) Nicky, Pam and Kim.
A trio of sisters will all be business science information system honours graduates by the end of the graduation week.
Nicky Westcott graduated in 1997 with Pam close behind in 2000, and baby sister Kim will graduate on 17 December.
After graduating, Nicky decided to take a year off to go to the UK before coming back to take on the serious task of a real job. On arriving, she found a job with a small IT consultancy and worked there for two years in web development and pre-sales. She then contracted as a Java programmer for three years, taking time between contracts to travel to Southeast Asia, China, Nepal and Europe - as well as working in Switzerland for three months (conveniently, during the ski season!). She is now working at an investment bank, managing a team of Java developers who write surveillance processes for the trading systems, looking for unusual or suspicious behaviour patterns. Nicky lives in London with her husband and two small children.
Pam completed her IS honours degree in 2000. She then went to America to work at a ski resort and to travel, before returning to South Africa to get a job as a business analyst at BSG. At the end of 2003 she was bitten by the travel bug once again and travelled to Mozambique and South America. She then moved to London, where she began work for Sequel Business Solutions, a company which produces software to support underwriters and brokers operating in the Lloyd's of London and international insurance markets (www.sequel.com). Initially employed as a business analyst, Pam moved into project management for a large scale software development and implementation project.
In October Pam moved back to South Africa with her husband, where she continues to work for Sequel until the end of this year, as she is expecting her first baby.
Kim, the youngest, plans a two-month break to travel around Southeast Asia with three of her friends. She will then follow in the footsteps of both her sisters by moving to the UK, where she has a job as a Business Solutions Consultant in the London office of BSG. Although Kim says she's unsure what the future holds, she intends returning to the Mother City.
---
This work is licensed under a Creative Commons Attribution-NoDerivatives 4.0 International License.
Please view the republishing articles page for more information.
---