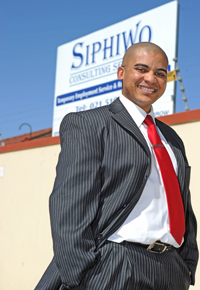 Second wind: Local entrepreneur and self-starter Paul Adams will graduate from UCT's Graduate School of Business with a Postgraduate Diploma in Management on 18 December
Local entrepreneur Paul Adams never believed that he would one day be part of the executive team of a reputable recruitment consulting firm. A rebellious teenager, he almost didn't finish high school. Life could then easily have taken a different path, but Adams believes he was destined to do great things - all he needed was an intervention.
The 'intervention' was more like a series of occurrences, says the man who will graduate from UCT's Graduate School of Business with a Postgraduate Diploma in Management on 18 December.
Today Adams is general manager of Siphiwo Consulting Services, a company that specialises in consulting and outsourcing services in the fields of human resources, training and development and recruitment. Adams is playing a vital role in developing and marketing the business. He also manages the human resources, operations and legal departments - which he says he loves, and which allows him to wear many hats every day.
Although Adams relishes his good fortune, he looks back on his life and is grateful for the struggles he experienced and how they led him to where he is today.
The first turning point came when his older brother, Gidion Adams, persuaded him to return to school.
"I left school in Grade 9, convinced that I didn't need it. I was always very independent, a self-starter kind of person. I think this was due to the absence of a father figure in my life," says Adams.
Adams' father left the family when he was 11; he confesses that this aggravated his rebellious nature.
"I didn't like following rules and I believed I could find work or even start my own business at the age of 16, but I ended up working for a car wash. Gidion came to my rescue with some stern words, and helped me realise the importance of education. That message has stuck with me throughout my life."
Adams finished matric in 1994 at Grassdale High School in Grassy Park where he grew up with his mom and five older brothers. Times were tough and he couldn't afford to study further. He had a string of jobs between 1995 and 1998 selling different products door to door, experienced many failures and learnt hard lessons. Then he went into business with Gidion and spent five years helping to run their small business, called Trend-setter Blinds.
"This period of my life taught me great resilience and made me realise how hard you need to work to get what you want," says Adams.
The next big turning point came in 2004. He entered the SAB Kick-Start programme, a poverty alleviation programme that has become a platform for stimulating sustainable enterprise development in the country. With the help of his Kick-Start mentor, Wajdi Abrahams, a Heart 104.9 business show presenter, Adams realised that he had a passion for human resources services. He compiled a comprehensive business plan, calling his business Inkhunzi Consulting Services, and got the capital to establish his venture.
"This was indeed a brilliant and life-changing experience for me and I learnt so much, including what I was capable of," he says.
A year later Adams sold Inkhunzi to Siphiwo Consultancies, where he now invests his time and energy.
He doesn't know whether it was luck or just 'meant to be', but being able to study through UCT's Graduate School of Business and fulfil his dream of acquiring a management qualification was unexpected, but an experience which he says was one of the most valuable of his life.
"It's huge in my world, and I'm the first in my family to graduate at varsity level!"
Adams plans to start law studies in 2012.
---
This work is licensed under a Creative Commons Attribution-NoDerivatives 4.0 International License.
Please view the republishing articles page for more information.
---