In addition to the regular procession of graduands, four well-known public figures will also make their way up on stage over the coming December graduations when UCT awards honorary doctorates to British politician Baroness Lynda Chalker (21 December), who will receive an LLD (honoris causa); United Nations Commissioner for Human Rights and South African Judge Navi Pillay (21 December) will receive an LLD (honoris causa); and acting greats Sir Anthony Sher and Janet Suzman will receive honorary DLitt degrees (both on 20 December).
Judge Navi Pillay | Baroness Lynda Chalker | Sir Antony Sher | Janet Suzman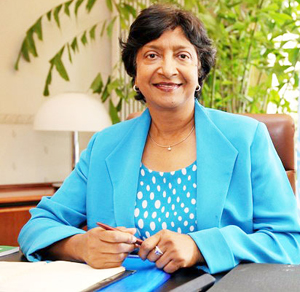 Judge Navi Pillay was the first woman to open her own law practice in Natal, and the first black woman and the first attorney to be appointed an acting judge of the High Court of South Africa.
Born in Durban and the daughter of a bus driver, she went to the University of Natal where she graduated with a BA in 1963 and an LLB in 1965. In 1982, she obtained a Master of Law degree and in 1988 a Doctor of Juridical Science degree from Harvard University. She has practised as an attorney since 1967, defending many anti-apartheid activists and trade unionists.
Among her precedent-setting achievements were judgments exposing the use of torture in the apartheid state, the debilitating effects of solitary confinement, and importantly, the winning of the right for Robben Island prisoners (including Nelson Mandela) to have access to legal representation.
In 1995 she was elected by the UN General Assembly as judge of the International Criminal Tribunal for Rwanda and led the court from 1999, setting significant international criminal law precedents, including the groundbreaking redefinition of rape as an act of genocide.
In February 2003, Judge Pillay was elected one of the 18 judges - and the only South African judge - of the newly-created International Criminal Court. In 2008 she became the United Nations High Commissioner for Human Rights, an office she regards as "the voice of the victim everywhere".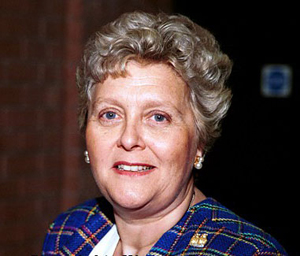 Baroness Lynda Chalker, a British Conservative politician, was a Member of Parliament in the United Kingdom from 1974 to 1992. She became a life peer in 1992.
As a trustee of the University of Cape Town Trust in the United Kingdom, she has been very supportive of UCT over the years, by promoting the support of needy black students.
Chalker founded the Chalker Foundation for Africa, which supports medical knowledge and training in Africa. She is chairperson of the board of the Medicines for Malaria Venture. She is the founder and chairman of Africa Matters Limited, and a founder board member of the Nelson Mandela Legacy Trust. Her support for development initiatives in Africa is widely recognised by African leaders: At the World Economic Forum meeting in Cape Town a few years ago, African presidents applauded when one of them called her "Mama Africa".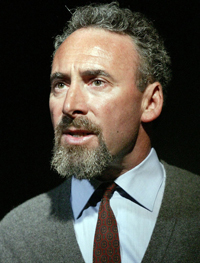 Sir Antony Sher was born and raised in South Africa, before going to London to study at the Webber-Douglas Academy of Dramatic Art between 1969 and 1971.
For a while he performed with the Gay Sweatshop theatre group, before joining the Royal Shakespeare Company in 1982. His performance in the title role of Richard III in 1984 was crowned with an Olivier Award for Best Actor, and in 1997 he won another Olivier Award for Stanley.
His acting success extends also to film - including performances as Disraeli in Mrs Brown, and chief weasel in The Wind in the Willows. His television work includes The History Man(1981) and The Jury (2002).
He has also written extensively, both fiction and non-fiction. His books include his memoirs, Woza Shakespeare: Titus Andronicus in Africa (1997), Year of the King (1985), Characters (1990) Beside Myself (2002), Primo Time (2005), and a number of novels. His plays include ID (2003), Primo (2004) and The Giant (2008).
His links with South Africa remain strong: directing at the Baxter, presenting master classes and writing on gay identity, and so creating a learning opportunity for others.
In 2005 he directed Breakfast with Mugabe, and in 2007 he produced the Channel 4 crime documentary Murder Most Foul, which chronicled the Cape Town murder of Brett Goldin and Richard Bloom.
Sher has been widely honoured for his contributions as an actor, writer and director.
Janet Suzman, in a remarkable career, has distinguished herself as an actor and director in theatre, film and television.
Born in Johannesburg, she was educated at Kingsmead College and Wits University. She was an active voice against discrimination, and as a student spoke out against the Extension of University Education Bill, which paved the way for the extension of apartheid into higher education. Following its promulgation into law in 1959 she left South Africa for England, where she studied acting at the London Academy of Music and Dramatic Art (LAMDA), of which she is now vice-President.
In 1963, she joined the newly-formed Royal Shakespearean Company for their War of the Roses, and subsequently played many Shakespearean heroines. Her performance as Cleopatra in 1973 received rave reviews, and is still regarded as the definitive performance of the role. She is passing on the baton, however, having recently directed Kim Cattrall in the role for The Liverpool Playhouse. More recently, in 2007, critics raved about her performance as Volumnia in Coriolanus, and noted that there were "too few stage performances from this fine actress", reflecting the ratio of male to female dramatic parts.
Her first role in film in the early 1970s was as the Empress Alexandra of Russia in Nicholas and Alexandra, for which she received Golden Globe and Academy Award nominations for best actress. She has made many other films including Andre Brink's A Dry White Season, and the cult movie The Draughtsman's Contract. She has twice received London's prestigious Evening Standard Award for plays by Fugard and Chekhov.
She has always kept her links with South Africa and opened the Market Theatre in 1976 in The Death of Bessie Smith with John Kani, and subsequently directed him in Othello there in 1987, treating it as a protest play.
In the 90s she directed The Good Woman of Sharkville there, and in 1987 rewrote The Cherry Orchard, setting it in the Free State for Birmingham Republic. Her production of Hamlet for the Baxter Theatre was invited to open the RSC's prestigious Complete Works Festival in 2006, but was scarred by the horrific murder of Brett Goldin, playing Rosenkrantz.
Her most recent South African play, The Dream of the Dog, which she helped develop with its author, Craig Higginson, opened at the Finborough Theatre, London, in April this year, and received rave reviews.
---
This work is licensed under a Creative Commons Attribution-NoDerivatives 4.0 International License.
Please view the republishing articles page for more information.
---