How Mariagrazia Galimberti cracks ancient marine mysteries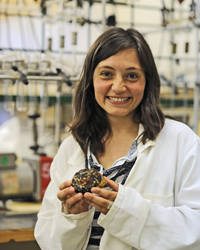 PhD graduand Mariagrazia Galimberti lives in a different world - more specifically, the Middle Stone Age.
She will receive her PhD in archaeology this week for a study that involved the reconstruction of the marine palaeoenvironment during the Middle Stone Age (between 300 000 and 30 000 years ago) - particularly the period between 115 000 and 50 000 years ago in South Africa - through the use of oxygen isotope analyses on two species of shellfish, Turbo sarmaticus and Donax serra.
The shellfish concerned were recovered at two archaeological sites, Pinnacle Point and Klasies River, and hers was the first study of its kind undertaken in South Africa and on South African material.
"Reconstructing the marine temperature as it was during the occupation of both the sites, I discovered that there is at times a discrepancy between the global record and the marine record on this coast of South Africa (the south coast)," says Galimberti.
"I also studied the season of exploitation of shellfish, which showed that they were mostly exploited in winter, shedding some light on behavioural patterns of Homo sapiens in South Africa. My PhD also included a pilot study on sclerochronology on both modern and archaeological specimens, which involved the counting of growth increments in shellfish carbonates to identify growth patterns in different time periods." To which lesser mortals can no doubt only reply: huh?
Her proud parents, Rosarita and Mauro, arrived in Cape Town from Italy recently for her graduation, and she says she is very excited that they will be able to share this special moment in her life.
"I am very grateful to them for having supported me, at times even financially, all through my university career. I know that they were not too enthusiastic to see me leaving Europe to come to South Africa, but I very much appreciate the fact that they never complained about it. They certainly contributed to me reaching this point (graduation), even if they don't realise that."
Galimberti did her undergraduate degree in Italy, at the University of Venice, obtaining a BA (equivalent to BA [Hons] in South Africa) in the preservation of cultural heritage, then went to Oxford for her master's and obtained an MSc in archaeological science at the Research Laboratory for Archaeology and History of Art.
She pays tribute to her supervisor, Professor Judith Sealy, who, she says, "has been incredibly good, helpful and extremely patient with me. She's a great supervisor."
On her time at UCT, she says: "Overall, UCT has been a very good experience for me. Even though my PhD has been very challenging at times due to the fact that my work was dependent on the efficiency of the available equipment, I've always found that people were very willing to help and I got much interaction and advice from many departments, including the Department of Geological Science, Zoology and the SEM Unit. Their help was invaluable."
At present she is working for the South African Heritage Resources Agency, and she plans one day to publish her work for her PhD.
"But I am leaving a door open to get back to academia and research in archaeological science, possibly with a postdoc."
---
This work is licensed under a Creative Commons Attribution-NoDerivatives 4.0 International License.
Please view the republishing articles page for more information.
---