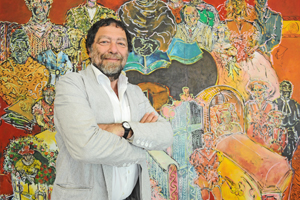 Full steam ahead: Prof Ari Sitas will lead a task team that will look to reinvigorate the humanities and social sciences in South Africa.
Few can fault the intentions behind South Africa's offensive over the past 15 years to nurture and produce the next generation of life scientists, engineers, technologists and captains of commerce.
The government hasn't been shy to inject money into these areas. For example, Naledi Pandor, minister of science and technology, recently revealed that the state's investment in research and development has increased five-fold over the past 11 years - from about R4 billion to R21 billion. (However, the country still fell short - by ever so little - of its investment targets, she pointed out.)
But while the state's purse-keepers have rightly been supportive to some extent towards these sciences, the humanities and social sciences appear to have fallen through the cracks. This turn of events hasn't escaped the attention of those in academia and government.
So no surprise then that Dr Blade Nzimande, minister of higher education and training, has set up a task team to develop, by June 2011, a charter to establish the importance of scholarship in the human and social sciences.
"Now is the time," said Nzimande, "for the teaching of and research in social sciences and the humanities to take their place again at the leading edge of our struggle for transformation and development of South African society."
The lower status of the humanities is costing the country dearly, according to Professor Ari Sitas of UCT's Department of Sociology, who has been appointed to head the task team.
"It's affecting the quality of humanities and social-science projects," says Sitas. "And most of the people sitting as directors-general or at the chief directorate level are products of the humanities and social science."
Sitas highlights three concerns. The first is the "palpable decline" in the number of doctoral graduates, particularly South African graduates and in key disciplines. Secondly, the emphasis on vocational training - in for the bachelor's degree and out directly after - has undermined the production of 'thinking' graduates. That, thirdly, leads to a skills disparity when our graduates are measured against their international counterparts; around a negotiating table, for example.
To carry out its objectives, the task team - Dr Sarah Mosoetsa from the University of the Witwatersrand will assist Sitas - will call on experts both local and international. Already they have established a South African reference group, which will include Dr Shamil Jeppie of UCT's new Institute for the Humanities in Africa (HUMA). An international reference group is also being finalised that it is hoped will include leading academics from Brazil, China, France, India, Jordan, the Netherlands, Norway, Senegal, and the US.
Fortunately much of the legwork has already been done by the Academy of Science of South Africa (ASSAf), says Sitas. ASSAf was one of the first organisations to point out that the humanities and social sciences had fallen into neglect. Among its publications is a report on peer review of scholarly journals in the social sciences, released in August this year.
As part of its own fact-finding, the ministerial task team will host workshops and interviews with local stakeholders, including deans, vice-chancellors and research directors, as well as leading scholars around the country. It will also borrow from the work of others, including ASSAf, the Public Service Commission and research by institutions outside of the higher-education system.
"It's a global phenomenon, this emphasis on the knowledge economy, on science, engineering, the new information technologies, and so forth," says Sitas. "But if you look at the US, for example, they have not damaged their top institutions; but here we're starting to worry that even our top institutions, including UCT, are starting to suffer."
But while the likes of UCT are still able to attract funding for a HUMA or the Centre for Curating the Archive, others may not be so blessed. That, worries Sitas, could lead to further inequities in the system, with pockets of excellence in one or two corners of the country, and a vacuum elsewhere.
But the task team will have to weigh up an array of options and models, and then see what's feasible, says Sitas.
"We're going to explore everything. And then try to be pragmatic, but visionary at the same time."
Potted bio
Born in Cyprus, Prof Ari Sitas has a PhD from the University of the Witwatersrand, graduating in 1984. In the late 1980s and early 1990s he was a consultant to unions, labour and government programmes, and cultural groups. He was a senior Fulbright research fellow at the University of California at Berkeley from 1993 to 1994, returning there as a guest senior fellow in 1999 and 2000. Over the past 10 years he has served on both South African and international committees and associations, and was a guest professor in Germany and India. He headed the School of Sociology and Social Studies at the University of KwaZulu-Natal from 2005 to 2007. He is also a poet and an award-winning dramatist. Sitas is currently a senior professor of sociology at UCT.
---
This work is licensed under a Creative Commons Attribution-NoDerivatives 4.0 International License.
Please view the republishing articles page for more information.
---