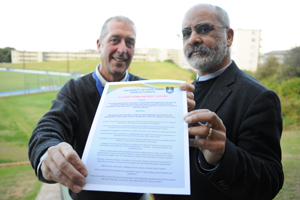 Herald: Prof Mike Meadows and Prof Crain Soudien celebrate the launch of the new Mission and Vision of the UCT Sports Council.
A new era for sport at UCT was ushered in when the UCT Sports Council launched its revised Vision and Mission on 20 September.
The Sports Council's vision is a bold and ambitious one: "To be the leading tertiary institution for student-centred sport by providing a balanced and broad-based sports programme that promotes participation and performance excellence and through which students can achieve their full potential."
In turn, its mission recognises that through a student-centred approached, sport fosters the development of the 'whole student'. The document, headlined by the catchphrase, UCT Sport: In Mind and Body - For Life, also lists the kinds of values that sport can bring to the UCT community.
"What this document really tries to do is inform everyone involved at UCT - and beyond the university - what sport is at UCT, what it can do for an institution like UCT, what it can do for the students at UCT, and what it can for the community around UCT," said Professor Mike Meadows, chair of the Sports Council.
More than that, the document sets out to reconcile sport with academia, added Meadows. "We very often see sport as an add-on, and I think what this document tries to do is see it as a much more integrated part of the life of a university."
The words may be new, but not the commitments, which have evolved over time, noted deputy vice-chancellor Professor Crain Soudien. He also pointed to what he called "the new space of performance excellence" and the challenge that UCT faces to create that space, understanding that the demands of sport often clashes with the demands of the classroom. "It's asking hard questions of where we had been in the past," he said.
---
This work is licensed under a Creative Commons Attribution-NoDerivatives 4.0 International License.
Please view the republishing articles page for more information.
---