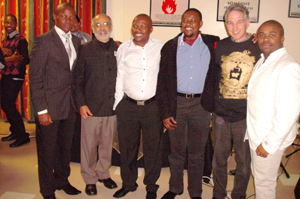 Residence celebration: Photographed at the Leo Marquard High Table dinner were (from left) head student Siya Nyezi, deputy vice-chancellor Prof Crain Soudien, deputy warden Khwezi Bonani, warden Daniel Munene, vice-chancellor Dr Max Price (wearing a Leo Marquard T-shirt), and deputy head student Mduduzi Mhlongo.
Vice-chancellor Dr Max Price was the guest speaker at Leo Marquard residence's first High Table dinner, held on 7 May.
Price spoke on issues of leadership; contrasting different styles of leadership, and illustrating how each is appropriate in different situations.
Price said that in crisis situations, leadership is often of the kind of an army general whose authority is unquestioned, and consultation is minimised. In university leadership, which is a non-hierarchical, collegial system among academics, a different style is required, he said. This relies heavily on persuading people with ideas; strong, rational argument; and inspiring people with a vision. In some situations, one leads from behind, he said, in a highly consultative mode that empowers individuals to achieve. In other contexts, one leads from the front, taking risks where others might not.
Underpinning all styles of leadership should be certain values, Price added. A leader - a role model in word and deed - should display integrity, instil trust, and also be able to recognise and accept that he or she may make mistakes at times, and should be open to correcting these.
As an example, Price said he felt he had erred in a recent public speech when he used a particular turn of phrase, referring to "showing the middle finger" to the government if they did not address crime appropriately. He said that the reference to showing the middle finger, if used in isolation, would not be an appropriate discourse or style for a vice-chancellor.
"I regretted it afterwards, although at the time I had used it to make a connection with the arrest the previous week of a young student for showing a middle finger at Zuma's convoy, which suggested police abusing power instead of fighting crime."
It was a group of UCT students that had questioned the appropriateness of the phrase, and Price said he acknowledged the validity of their view and appreciated their desire to hold their vice-chancellor accountable. Accountability was a vital facet of leadership, he added.
The High Table was also attended by deputy vice-chancellor Professor Crain Soudien, students, old Marquardians and residence wardens.
Price finished by encouraging the residence's house committee and residents to adhere to their vision for the residence, and to achieve the goals they had set.
Head student Siya Nyezi said the event had been held to foster academic excellence and to inspire Marquardians to succeed.
"The best way to do this is to invite people who have succeeded in their respective fields to address us."
He commended Price and Soudien for their relaxed interaction with the students.
"They felt they could relate to what the keynote speaker, Dr Price, was saying."
---
This work is licensed under a Creative Commons Attribution-NoDerivatives 4.0 International License.
Please view the republishing articles page for more information.
---