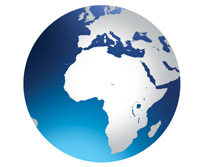 Dylan Evans, a science lecturer at the University College, Cork, in the UK, who was accused of sexual harassment after showing a female colleague a research paper on oral sex between fruit bats, has been ordered to undergo a two-year "monitoring and counselling" programme, despite being cleared by his university.
The original Foucault's Pendulum, which was used by French scientist Léon Foucault to demonstrate the rotation of the Earth, was irreparably damaged after its cable snapped and its sphere crashed to the marble floor of the Museum of Arts and Industry in Paris.
Edge Hill University in Lancashire in the UK and the South China University of Technology in Guangzhou have sealed an official partnership to offer 10 scholarships for British students to travel to China for a four-week immersion programme in Mandarin.
Liverpool Hope University will launch Britain's first MA in contemporary Muslim studies in September 2010.
Computer students at the University of Cambridge in the UK have set up a website offering an analysis of how closely politicians are sticking to their promises, according to the comments the politicians make on Twitter, the social networking site.
The Journal of Blacks in Higher Education, a 17-year-old quarterly publication that chronicles the African-American experience at American Colleges and Universities, has announced that its spring issue will be its last in print.
Citing steep declines in revenue, Nylink, a non-profit library co-operative that serves most of New York State's Colleges and Universities as well as the New York Public Library, will phase itself out over the next year.
Presidents, directors and representatives of Several Universities from Tunisia, Algeria, Morocco, Mauritania, Libya, Egypt and Japan gathered in Tunisia for a state-hosted meeting to promote co-operation between Japanese and North African universities.
Sixty-five percent of students in Tertiary Institutions in Zimbabwe have no access to information on sexual and reproductive health, says non-governmental organisation The Student and Youth Working on Reproductive Health Action Team.
The South African National Union of Mineworkers has committed R250-million over the next five years for training doctors, engineers, and IT and agricultural specialists.
---
This work is licensed under a Creative Commons Attribution-NoDerivatives 4.0 International License.
Please view the republishing articles page for more information.
---