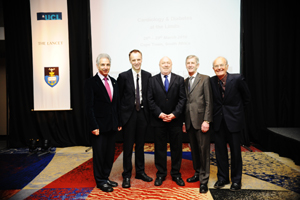 Partners: Celebrating a new collaboration between the ATL education series and journal The Lancet at a recent conference were VC Dr Max Price; Dr Richard Horton, editor of The Lancet; Prof Derek Yellon, ATL co-founder; Sir John Tooke, head of the University College London Medical School; and UCT's Emer Prof Lionel Opie.
Emeritus Professor Lionel Opie describes the At the Limits (ATL) annual conferences as once having been "petite and elite", but perhaps that description no longer applies to the meetings, especially now that famed medical journal The Lancet has come on board as official collaborator.
Opie (founding director of UCT's Hatter Institute for Cardiology Research) co-established the ATL medical-education series with Professor Derek Yellon (director of the Hatter Cardiovascular Institute at University College London, England) back in 1997, as a specialised conference on diseases of the heart. The meeting was a companion piece to the launch of both the Hatter Institute and a five-year chair in cardiology research at UCT, funded through money that Opie and Yellon had scared up from Sir Maurice Hatter, English business mogul and philanthropist, and from Old Mutual and other donors.
One of the founding principles of the series was to attract delegates from Africa and Asia as well as from the developed world.This is why the conferences are all hosted at UCT - fully accessible to many from Africa, and still a sensible overnight travel option for delegates from Europe.
The series started off with an annual conference on cardiology only, but now also includes regular (if not annual) meetings on diabetes, nephrology, Alzheimer's disease, osteoporosis, oncology, gastroenterology and respiratory conditions. And since its launch, ATL has grown into one of the world's leading and most sought-after (attendance is by invitation only) medical-education events.
"When people are invited to speak, very seldom do they say no," reports Opie.
The event's stature received another boost this year with the leading British and international medical journal The Lancet agreeing to endorse the programme and content of the meetings. In addition, the journal will also post videos of the ATL talks on its website (www.thelancet.com), which boasts some 1.9 million registered users.
The most recent ATL meeting, attended by around 250 delegates from 26 to 29 March, should have pulled in a good many of those by virtue of its conjoined theme - Cardiology & Diabetes.
It's increasingly being accepted that obesity, diabetes and related conditions lead to cardiac complications, explains Opie. "So diabetologists are interested in the cardiological complications, and cardiologists are interested in how to treat people with diabetes."
The March meeting was the series' second of the year, following on a four-day nephrology conference in February.
---
This work is licensed under a Creative Commons Attribution-NoDerivatives 4.0 International License.
Please view the republishing articles page for more information.
---