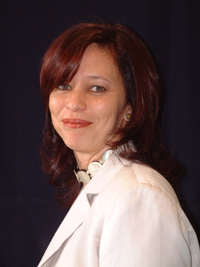 Law and language: Law faculty's Assoc Prof Loretta Feris, an environmental specialist, is one of several UCT law academics lined up for the Woordfees (Wordfest) in Stellenbosch this week.
The Faculty of Law will present an actuality programme in Afrikaans at the 11th annual Woordfees (Wordfest) in Stellenbosch from 1 to 5 March. This will be the first law programme to be presented at this festival.
The discussion programme, Reg met Afrikaans (Law in Afrikaans), is a contribution by lawyers to the recognition of Afrikaans as a language that has a vital role in discussion and debate on law subjects.
Through their participation, several UCT lecturers will be supporting Afrikaans as an academic language and a language of law, said programme convenor, Professor Rochelle le Roux. "For us it is a privilege to present legal topics in Afrikaans. In this way we can stimulate debate among lay people on a variety of legal matters that concern the public. We also want to illustrate that law can also be an adventure."
This venture is supported by UCT law dean, Professor PJ Schwikkard.
"South African law is the best explored and developed with an appreciation of history, language, diversity and creativity," she said. "So it is entirely appropriate for the law faculty to be involved with the discourse, Reg met Afrikaans."
Woordfees director, Professor Dorothea van Zyl of Stellenbosch University, one of the festival's sponsors, welcomed the goodwill extended to the festival by a 'neighbouring university'.
Topical subjects will be discussed during lunch hour each day. On 1 March UCT's Professor Pierre de Vos will speak on constitutional matters in a presentation titled, Is die grondwetlike regstaat 'n struikelblok op weg na transformasie? (Is the constitutional state based on the rule of law a stumbling block on the road to transformation?)
UCT speakers will also include Associate Professor Loretta Feris of the Institute for Marine and Environmental Law, who will explore the new environmental laws; Professor Jaco Barnard-Naudé on the relationship between law and literature; Meryl du Plessis, a specialist on workplace issues, will discuss stress and depression in the workplace; and Professor Elrena van der Spuy, a specialist in aspects of police matters, will discuss the role of South African women police officers in peace missions in Africa, particularly in the Sudan.
Download more information.
---
This work is licensed under a Creative Commons Attribution-NoDerivatives 4.0 International License.
Please view the republishing articles page for more information.
---