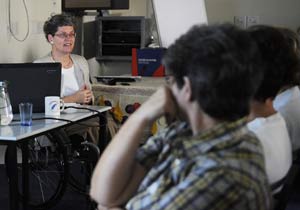 Going Dutch: Acclaimed neuroscientist Prof Mijna Hadders-Algra visited UCT to run a short course on developmental neurology.
When the School of Health and Rehabilitation Sciences invited renowned neuroscientist Mijna Hadders-Algra to UCT for a few days, they realised her whirlwind visit needed to be shared with others.
So last week the school hosted a two-day training course where Hadders-Algra, professor of developmental neurology - specialising in the early detection of developmental disabilities - at the University of Groningen in The Netherlands, steered 80 health care professionals from across South Africa through a score of related topics.
Day one of the jam-packed programme concentrated on the assessment of neurological disorders among infants, while day two was spent on possible interventions, all drawing on Hadders-Algra's wealth of research.
"The programme was quite detailed and quite intensive," says the school's Marieke Pronk, who helped make the visit and course possible. "And it was great to have someone of Professor Hadders-Algra's calibre to come and lecture here."
The course attracted paediatricians, speech therapists, occupational therapists and physiotherapists - among others - from both the private and public sectors. Most work with infants and children suffering from neurological disorders, and going by comments during and after the course, the two days proved useful for catching up with the latest developments in the field, even if much of the studies were taken from more developed nations.
So, for example, Shane Hodges, a physiotherapist who works with children with cerebral palsy and other learning and physical disabilities at Paarl School in Brackenfell, found the sessions on movement and posture of particular interest. "It was very helpful to find out what's out there and what's happening," she says.
The course also triggered a few ideas for a PhD proposal for Amshuda Sayed, course convenor and lecturer at the school. "What I liked most about the speaker is that she always used evidence and literature to qualify any statement she made, and more specifically made reference to her own research studies," says Sayed.
Just the right note on which to kick the new year off, then.
---
This work is licensed under a Creative Commons Attribution-NoDerivatives 4.0 International License.
Please view the republishing articles page for more information.
---