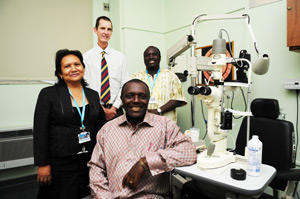 Trailblazers: (From left) Marie Ravelson, Prof Colin Cook, Simon Yuh and Elvis Chipili.
Pathfinders on the road to community eye health
Three UCT students are blazing a hitherto-uncharted trail in the important field of community eye health.
Elvis Chipili from Zambia, Simon Yuh from Cameroon, and Marie Ravelson from Madagascar will graduate this month after completing UCT's first-ever postgraduate diploma in community eye health.
The course is not only a first for UCT, but for South Africa itself. Indeed, only one other similar course exists in sub-Saharan Africa - at Tunaimi University in Moshi, Tanzania.
Course convener Professor Colin Cook, professor of ophthalmology at UCT's Department of Surgery, says the three had previously obtained certificates in the subject after completing a course in 2008, but this is the first time a diploma course has been offered.
UCT advertised for the course throughout sub-Saharan Africa, and the response was encouraging indeed. No fewer than 22 applicants have applied for next year's course, which can accommodate 20 students.
"The course is designed to develop capacity in the management of blindness-prevention programmes in Africa," Cook explains, adding that the main causes of blindness in Africa are cataracts, glaucoma, trachoma and diabetic retinopathy.
He says the three will make a valuable contribution towards the management of blindness-prevention programmes in the future, on a continent where there is an urgent need for such skills.
"UCT wants to position itself as a truly African university, facing truly African challenges," says Cook. The community eye health course will play its part in furthering this objective.
The three students will take their newly-acquired expertise back to their native countries and, in Ravelson's case, she will be responsible for overseeing the co-ordination of a national blindness prevention programme affecting a population of 18 million people.
Cook, himself an alumnus of UCT, describes himself as an ophthalmologist with an interest in community eye health, and has been at UCT for the past three years.
He says UCT is an exciting place to work, particularly as it is committed to being a relevant African educational institution, facing often uniquely African challenges, and partnering other leading universities on the continent in this important pursuit.
He believes the first three community eye health graduates are harbingers of bigger things to come in this vital area of health care. No doubt future graduates will grow and strengthen this noble cause even further.
---
This work is licensed under a Creative Commons Attribution-NoDerivatives 4.0 International License.
Please view the republishing articles page for more information.
---