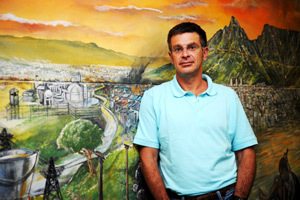 If the punchline of Laurie Nathan's doctoral thesis - that domestic stability is a necessary condition of a security community - would seem self-evident to many, it seems is not.
Much of the literature on security communities, Nathan explains, takes a different view. "The concept of security communities was developed principally by international-relations scholars who were more interested in relations between states, not relations within states," he says. "For them, a security community existed where there was no prospect whatsoever of a war between a group of states." (Think Australia and New Zealand, the US and Canada.)
But things are a little different in the South African Development Community (SADC), an agreement between 15 Southern African states to boost economic, political and security co-operation. And in his thesis, Nathan explains what went wrong with the SADC. (Now a research associate at UCT and a visiting fellow at the Crisis States Research Centre at the London School of Economics, Nathan, then head of the UCT-based Centre for Conflict Resolution, was part of the international teams that developed many SADC policies.)
Three things undermined the SADC's ambitions. One: the lack of common values. A mixed bag of democracies and authoritarian states, there was little agreement on some key issues, such as the civil war in Angola and the troubles in Zimbabwe.
Two: SADC states are economically and administratively weak. "Weak states necessarily set up weak organisations," says Nathan.
And, three: SADC states - in sharp contrast to those in the European Community, for example - do not want to relinquish sovereignty to the regional organisation. (Zimbabwe would just shrug off any SADC decisions with which it did not agree.)
It doesn't bode well for the organisation, then. But while one strong state - even South Africa - wouldn't have the clout to bring the others to heel, a small, strong partnership may, Nathan suggests.
A pity then, he adds, that the region's two potential powerhouses, South Africa - although still wary of the 'bully' label it earned during apartheid - and Zimbabwe, can't play that role.
---
This work is licensed under a Creative Commons Attribution-NoDerivatives 4.0 International License.
Please view the republishing articles page for more information.
---