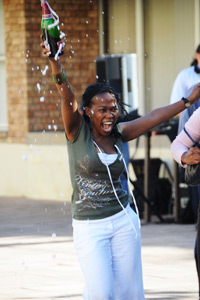 Two hundred and seventy three final-year health sciences students danced, cheered and whistled as hundreds of pamphlets bearing their results rained down from the balcony at the Barnard Fuller Building on 30 November at the annual results bash. The jamboree was led by dean Professor Marian Jacobs and faculty staff.
Among the successful candidates were four gold medal winners - those who scored an average of 75% or above throughout their studies. They were Nevadna Singh (MBChB), Simone Filies (BSc in Speech-Language Pathology), Jessica Suart (BSc in Occupational Therapy) and Sarah Smythe (BSc in Physiotherapy).
Among the 168 MBChB graduands was Chwayita Luwaca who said the long journey through medical school had its ups and downs - but was well worth it.
"This is a great achievement. I don't have words to express my feelings."
Fellow graduand Kagiso Lekang said keeping his goal in mind had steered him home. He thanked the "fantastic" lecturers for their support.
The newly qualified graduates - doctors, physiotherapists, speech therapists, audiologists and occupational therapists - will now do their internships and/or community service in order to register as practitioners in South Africa.
Jacobs said most of the new crop of fledgling doctors and healthcare professionals had committed themselves to remaining in the country, where their services are desperately needed. Others want to get international experience first.
But the results had shown that the new MBChB curriculum is able to produce students who are "innovative, hold firm opinions and care for patients".
All graduating health sciences students in the clinical programme will take an oath committing them to ethical practice when they are admitted as members of the health profession.
The declaration reads: "I solemnly pledge to serve humanity. My most important considerations will be the health of patients and the health of their communities. I will not permit considerations of age, gender, race, religion, ethnic origin, sexual orientation, disease, disability or any other factor to adversely affect the care I give to patients. I will uphold human rights and civil liberties to advance health, even under threat. I will engage patients and colleagues as partners in healthcare. I will practise my profession with conscience and dignity. I will respect the confidentiality of patients, present or past, living or deceased. I will value research and will be guided in its conduct by the highest ethical standards. I commit myself to lifelong learning. I make these promises solemnly, freely and upon my honour."
---
This work is licensed under a Creative Commons Attribution-NoDerivatives 4.0 International License.
Please view the republishing articles page for more information.
---