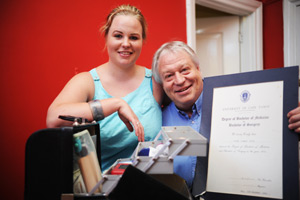 In the bag: Jennifer Steyn and dad Murray, with grandfather Pieter Steyn's doctor's bag and his graduating certificate.
It's literally true that MBChB graduate Jennifer Steyn's bloodline on her father's side goes all the way back to the founding of UCT.
It all started with her great-grandfather, Dr Tommie Steyn, a medical student at the South African College (SAC) - now South African College Schools or SACS - when parts of it officially became UCT in 1918. Not only would Steyn become the first captain of the UCT rugby first team that year, but in that capacity would also serve on the university's first Student Representative Council in 1919.
Also in 1919, he captained UCT in the first intervarsity against Stellenbosch University, eight years after sibling Cecil had captained the SAC in the first intercollege against Victoria College of Stellenbosch. (It's often overlooked - this side of the world, anyway - that Stellenbosch University was also established in 1918, springing out of Victoria College, although SACS claims bragging rights as the country's oldest school by a few decades, depending on when you start counting.)
Tommie would spend much of his career at the Dutch Reformed Church's Morgenster mission hospital - where he earned his local Shona name, Murapi Wedu, meaning "our doctor" - in what was then Bulawayo, Rhodesia. He would receive an MBE (Member of the British Empire) in 1951 for his work at Morgenster.
Tommie and Annie Steyn's oldest son, Pieter, would carry on the family's medical tradition, graduating from UCT in 1953 alongside the likes of classmate Stuart Saunders, who would later become vice-chancellor.
The doctor gene then skipped a generation, as dad Murray, marketing manager at UCT's Department of Communication and Marketing, and aunt Jennifer, the well-known stage and television actress, opted for drama instead, as would big sister Lauren. Uncle Andrew taught in the African Studies section at UCT for a while, but now works in alternative healing. (There's family talk that the brothers deliberately forewent medicine as acts of rebellion.)
It's grandfather Pieter, however, who in part inspired Jennifer's medical ambitions. She recalls well the times they visited the family home in George.
"I can still remember that he would have his stethoscope around his neck hours after he had come home from work," she says. Jennifer still has that stethoscope. And granddad's medical bag, which she's inherited alongside a few odds and ends of his trade, such as a blade (with that one-of-a-kind surgery smell), little pots of ointments and his ophthalmoscope.
"The bag's still got that old medicine smell, which reminds me so much of walking into his surgery," says Jennifer.
The bag, now neatly stacked with her own professional and first-aid wares, will go with her to Kimberley Hospital in the Free State, where she starts her two-year internship next year.
She'll miss mom and dad, she says - although they'll probably miss her more - but thanks to that bag, she'll have a little bit of family with her no matter where she goes.
Expect some blubbering from dad before then, though.
"The one thing that is emotional and déjà vu-esque," he says, "is visiting my daughter in her final year at the hospital and seeing her walk down the passage with her stethoscope around her neck."
Don't be surprised if the next generation of Steyns follow suit.
---
This work is licensed under a Creative Commons Attribution-NoDerivatives 4.0 International License.
Please view the republishing articles page for more information.
---