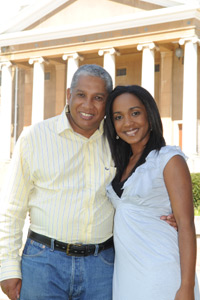 Council deputy chair prepares for duty
When it comes to graduation ceremonies, you might say UCT Council deputy chair Trevor Petersen has "been there, done that, got the caps ..."
Which is in no way meant to underplay the significance of the moment when he caps his younger daughter, Melissa (22) this week, as she qualifies with a degree in occupational therapy.
It's not the first time Petersen, himself a UCT BCom graduate and distinguished chartered accountant (CA), has performed such an honour. A few years ago he capped his first daughter, Candice, when she graduated from the Faculty of Humanities.
"Something like this is always bound to be emotional, but more than that, it's about a sense of achievement for the graduate, after so much hard work and dedication," he says.
Petersen, who has been a member of UCT's Council since 2002 and who is also chair of the University's Finance Committee, says he always encouraged his daughters to "follow their own hearts," and never tried to persuade them to walk in his footsteps.
"When parents choose what they want their children to do, or become, it's a recipe for a great deal of unhappiness," he says.
As finance chair, he describes himself as "a member of a team of highly skilled and dedicated people" who have worked tirelessly to bring about good governance, strong financial management and participation in decision-making at UCT.
He says that together the team has built a model of financial sustainability that has put UCT on the right path in terms of strategic investments.
But this week, on Melissa's special day, his thoughts will no doubt turn away from balance sheets and financial statements to the pride he feels as his younger daughter earns her hard-won degree and plans a future career in the field she loves.
---
This work is licensed under a Creative Commons Attribution-NoDerivatives 4.0 International License.
Please view the republishing articles page for more information.
---