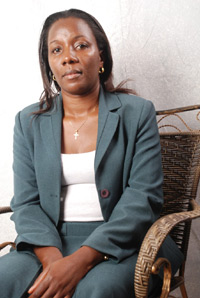 Janestic Twikirize's journey to a PhD in Social Development is an encouraging story of bravery in the face of immense suffering.
She survived a potentially fatal condition, which saw her lose her newborn baby, and was on life support for 21 days. But she overcame it all and will graduate with a PhD this week.
Twikirize, a Ugandan, says part of the reason she is alive today was timely access to medical attention. This inspired her to undertake research on innovative mechanisms to improve access to health care in Uganda.
"I was seven months pregnant in October 2004 when I developed hypertension (high blood pressure). The doctor suggested removing the baby before its term as I was at risk of losing my life and that of the baby from a condition known as pre-eclampsia," she says.
About two hours after leaving the theatre, she was discovered unconscious and lying in a pool of blood. Immediately the doctors diagnosed the problem as disseminated intravascular coagulation, a rare condition associated with blood clotting failure due to loss of blood platelets.
"I barely survived. I was on life support for 21 days. Meanwhile, the baby had been placed in the Special Care Unit. He later developed some complication and died. I did not see the baby. That too took its toll on me. At the time I was discharged, I still could not sit properly, stand or walk and I still had a catheter," she recalls.
It was during her time of recovery at home that she began to reflect on Uganda's health care system and the importance of timely and effective access to health care.
"My heart was drawn to the rural folks. I began to imagine what would have happened if there had been delayed attention, or lack of skilled attention, equipment and other accessories when I was sick. I would be among the maternal mortality statistics," she says (It is reported that 435 women die in Uganda for every 100 000 births.)
"I was still literally in my sick-bed when I developed the concept paper for the doctoral research. I later focused on one of the innovative mechanisms to improve access to health care for rural households, i.e. community health insurance."
A friend from Makerere University in Uganda, who was already enrolled at UCT for her doctoral studies, prompted Twikirize's interest in applying to UCT for her PhD, and she was admitted in February 2007.
"I took the offer despite the fact that I had not fully recovered - emotionally or physically.
"With the skills acquired through my doctoral studies, I plan to intensify my research and publication activities, as well as become a better teacher and supervisor.
"I also plan to spend some time in counselling students and other people facing difficult situations, to help them understand that with God, all things are possible," she adds.
She pays tribute to "the commitment and humaneness" of her supervisor, Dr Constance O'Brien, the Department of Social Development, and says this relationship was one of the highlights of her stay at UCT.
---
This work is licensed under a Creative Commons Attribution-NoDerivatives 4.0 International License.
Please view the republishing articles page for more information.
---