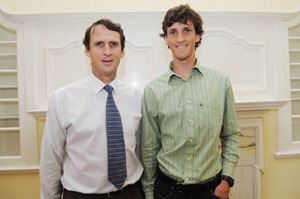 Family Business: Prof Johan Fagan with son Francois.
When Professor Johan Fagan, head of the Department of Otolaryngology in the Faculty of Health Sciences, caps his son Francois this week, it won't be the first time this family has taken centre stage at graduation.
Indeed, Francois hails from a long line of academically gifted Fagans, a hard act to follow if ever there was one. Francois will receive his BSc degree in maths and applied maths - with distinctions.
Not so long ago, Fagan capped his daughter, Marijke, who qualified in chemical engineering and who is now doing her PhD at Cambridge.
But it doesn't end there. Another Fagan brother - Professor Anton Fagan - is deputy dean of the Faculty of Law, and dad Hannes was awarded an honourary doctorate in law in 2003 for his outstanding work in the country's prisons system.
Uhm, it doesn't end there, either– Another Fagan brother, Eduard, received a doctorate in Afrikaans Nederlands at UCT and is currently working as an advocate in Cape Town.
But the brains in the family, Fagan insists, are on his wife Marion's side ...
He says the Fagan blood runs deep at UCT, which he admires for its strong liberal tradition. The institution has also handled the integration process "superbly", he believes.
Any fledgling Fagans waiting in the wings? Well, none that he know of ... yet.
---
This work is licensed under a Creative Commons Attribution-NoDerivatives 4.0 International License.
Please view the republishing articles page for more information.
---