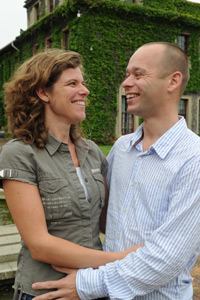 Postgrad merger: The Department of Human Biology's Robert Lamberts and Nelleke Langerak will marry four days after their graduation.
Wedding to follow!
The doctorates (including a PhD or two for good measure) will be flying thick and fast at the Faculty of Health Sciences graduation ceremony this week - and, shortly afterwards, two of the recipients will tie the knot at a ceremony of a very different kind.
Firstly, Professor of Biomedical Engineering Kit Vaughan will receive a DSc (Med), the most senior doctorate in the faculty, which is awarded for "substantive, original and scholarly contributions" to knowledge in one or more medical fields. It is rarely awarded, and only to "persons of exceptional academic merit", on the basis of original published work, which must be of international standing and regarded as seminal. The subject of Vaughan's work is the biomechanics of human locomotion.
Secondly, Nelleke Langerak, who has Vaughan as a co-supervisor, will receive a PhD in Human Biology (biomedical engineering) for her thesis on the long-term consequences (sequelae) of the neurosurgical procedure of rhizotomy, the cutting of sensory nerve roots.
Her fiancé, Robert Lamberts, will receive a PhD in Human Biology (exercise science) for his work on a submaximal test for cyclists to predict performance.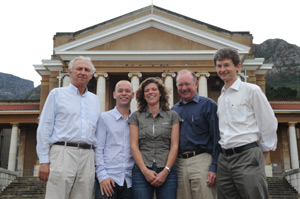 PhD feast:(From left) Emer Prof Jonathan Peter, Robert Lamberts, Nelleke Langerak, Prof Kit Vaughan, and Prof Graham Fieggen.
But that's not all ... Graham Fieggen, professor of neurosurgery and one of Langerak's co-supervisors, will receive a medical doctorate (ND) for his work on a pointing device which locates tumours in the brain.
Fieggen took over his position from Emeritus Professor Jonathan Peter, who was not only his supervisor but also Langerak's other co-supervisor.
On a lighter note, Lamberts and Langerak will attend a ceremony of a very different kind when they 'graduate' to becoming husband and wife at a venue just outside Cape Town four days later.
---
This work is licensed under a Creative Commons Attribution-NoDerivatives 4.0 International License.
Please view the republishing articles page for more information.
---