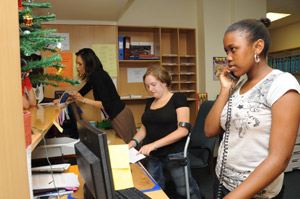 Under pressure: Staffers (from left) Melodie Campell, Kristen Pryce and Kefilwe Pitsie and their colleagues in the Student Records Office move into high gear in the weeks prior to graduation.
The office is based in the Kramer Building on middle campus. It is staffed by manager Sigi Rich, co-ordinator Melanie Swinerd, expert user Lisa Belding, as well as records assistants Nobambo Mpengesi, Xolani Njecana, Sean Sivertsen and Maldwin Williams.
What do you do before and after graduation?
Beyond graduation, the office produces academic transcripts for UCT's current and past students, duplicate certificates in cases where the originals have been lost, verifies qualifications, ad hoc letters for students, and deals with general university queries. It also orders and distributes class medals, processes deferred examinations, deals with requests for extra time in examinations and re-admission appeals. The unit also processes the Higher Education Management Information data. "We deal with all the queries that no one else wants to deal with," Rich quips. In the run-up to graduation, three staff members are responsible for checking and printing degree certificates. Another co-ordinates nine temporary employees, who stamp and staple the academic transcripts and place them in order for the graduation ceremony. They also assist with the preparation of the seating tickets.
What kind of challenges the unit is faced with over graduation?
Graduation deadlines are very tight, and the pressure is on to produce accurate graduation programmes and well-run ceremonies. Faculty Examination Committees meet on a Monday to qualify their students, just a week before the first of 11 graduation ceremonies. The only way members manage the work load under these circumstances is to work extra hours. "There are not enough hours in the day and night to do everything, though," says Rich. "During this time staff have to forget about decent eating and sleeping patterns, and adrenalin levels skyrocket. Personal lives take a back seat."
What are the challenges?
It frustrates staff when students don't respond to the graduation mailings. Members try everything, from post to emails and SMSes, but some students leave it until the very last minute and "then expect miracles". Staff members also miss out on family events over this period, and not being able to enjoy the festive season is a low point of the job. "Getting through graduation week and the weeks prior to that is an achievement certainly, but the sheer stress of doing so obscures high moments!" Rich says.
What is the weirdest thing you've encountered?
At graduations they see some very interesting outfits and shoes, and, unfortunately, some spectacular falls from the platform as a result of high heels! But what tops them all is the memory of one student who tore up his degree certificate. "He obviously had some issues!" says Rich.
---
This work is licensed under a Creative Commons Attribution-NoDerivatives 4.0 International License.
Please view the republishing articles page for more information.
---