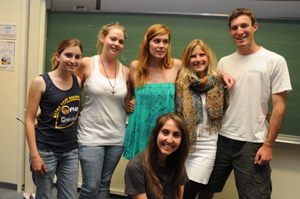 Going green: Lauren de Vos (front), outgoing chair of the Green Campus Initiative, with the new committee members (from left) Fiona Preston-Whyte, Machon du Toit, Emma Loftus, Johanna Källén (chair) and Dane Rossenrode.
Securing formal funding and firming up their status at UCT were some of the key challenges discussed when the Green Campus Initiative (GCI) elected a new committee on 21 October.
Outgoing chair Lauren de Vos said the project had recorded "tremendous achievements" since it was established almost two years ago. And it is still growing.
"But we are not as established as other groups on campus," she added. "We don't have the support structures of RAG and SHAWCO. We need to work with the vice-chancellor and deputy vice-chancellors to become really entrenched in the UCT system."
There have been successful collaborations. For example, UCT funded the Green Week campaign, and the Properties & Services Department supports the ongoing recycling project.
"But we have no formal funding for other campaigns. This year we had no office, no telephone lines," said De Vos.
Despite challenges, the GCI team has achieved a lot in making UCT sustainable, with more staff and students coming on board, and their projects grabbing attention.
Now it will be up to the new committee to take that impetus further.
De Vos will be replaced by Johanna Källén as chair. Her vice-chairs are Dane Rossenrode and Katinka Wagsaether. Emma Loftus is secretary and the treasurers are Machon du Toit and Fiona Preston-Whyte. Project leaders will be nominated for specific projects.
---
This work is licensed under a Creative Commons Attribution-NoDerivatives 4.0 International License.
Please view the republishing articles page for more information.
---