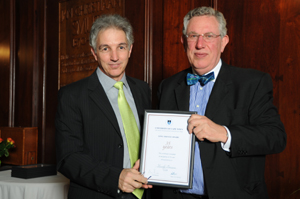 Registrar Hugh Amoore shies away from any comparisons with Sir Humphrey Appleby, the snooty and long-serving permanent secretary in the 1980s British comedy Yes, Minister, Appleby views his boss as merely the latest in a long line, and just gets on with his job.
Nothing in common, insists Amoore with a laugh. Other than, of course, that as one of. the staff members who celebrated 35 years with UCT this year, Amoore's served as Registrar under a few bosses - Dr Stuart Saunders, Dr Mamphela Ramphele, Prof Njabulo S Ndebele, and now Dr Max Price. (He was also a student and held a few other administrative posts during Sir Richard Luyt's tenure.)
In office since 1987, Amoore is UCT's longest-serving registrar. He's also known as a wellspring of institutional knowledge; there's just about nothing you can't ask him, said Price at the Long Service Awards presentation dinner. That was all the invitation we needed, so we posed a few questions of our own to get to know the man behind the office door.
Tell us what a Registrar does.
One part of the Registrar's job is servicing and serving the organs of governance - Council, Senate, Convocation and the like. Another part relates to the academic administration, linking it to the traditional title of Registrar, the person who keeps a register. That is everything from admissions to graduation to student records.
Do you ever get together with other South African registrars for chats or cocktails?
We do get together, yes, but we don't have cocktails - we work. There's a body that's called the Higher Education South Africa Registrars' Imbizo.
How many staff in the Registrar's Office?
We have a staff complement of 49.
To illustrate, what kinds of things did you have to deal with this morning?
Today's been a relatively quiet day. My first meeting this morning was on internal audits - from cash flow to internal controls. After that we had a meeting of the marketing and recruitment working group, which deals with undergrad and postgrad recruitment. Then I had a meeting with the vice-chancellor on some property issues. And then you. In between I dealt with some emails and a memorandum on student discipline at residences following a meeting with wardens last night. I also had a meeting about UCT's PeopleSoft system and the need to introduce new programme codes for master's degrees.
A mixed bag, then.
That's this morning.
You have a reputation for knowing so much - little details no one else can recall - about UCT. How did this come about?
It's a combination of factors. The Registrar has either got to be the repository of institutional knowledge, or has to be able to know where to get it because you are at the centre of administration. And I have been here for quite a long time - over time you pick these things up. I've also been in the fortunate position of having been involved in a lot of these activities, in many capacities. I got enmeshed in university business as a student, and I never got un-enmeshed. It interests me.
You've heard the joke about the archaeologist who wakes a mummy who looks up and asks if Hugh Amoore is still registrar at UCT?
Yes, I've heard it. Actually, it was originally used of Danie Craven back in his rugby days. And you won't be using it in the article, of course.
Of course. But what happens if you do leave UCT one day?
If I keel over tomorrow?
Yes. Is there a succession plan in place?
I'm not going to go public on succession planning, it wouldn't be appropriate. If all goes well, I'll be here another six years. That's a long time, but also not. So, yes, succession plans are part of what one is thinking about.
On a more personal note, tell us about the pens and the penmanship. You own a few nice pens - any ballpoint pens among them?
At my primary school, ballpoint pens were banned. I have a collection of pens and pencils I carry around with me, and there isn't a ballpoint pen in it.
Any favourite brands? Parker?
(A look of disgust) I write with a Lamy.
You have a permanent number - number one, right? - for completing the first ten Two Oceans Ultra Marathons. Any thoughts of doing a couple more?
(A hint of a smile) We'll see.
Anything special you can tell us about the bow ties? How many do you have?
I don't know how many I've got. There's nothing special about them. I wear a tie to work every day - sometimes I wear a tie, sometimes I wear a bow tie. The bow ties are what people notice because they're different.
Any special UCT memories?
It's difficult to isolate anything that's meaningful. We changed the UCT student number, which is now a model for other universities. Before it used to be just a number. And we changed the course numbers to what they are today, and many universities copied our system.
I know you have a teenage daughter, but what else keeps you occupied outside of work?
I collect stamps.
---
This work is licensed under a Creative Commons Attribution-NoDerivatives 4.0 International License.
Please view the republishing articles page for more information.
---