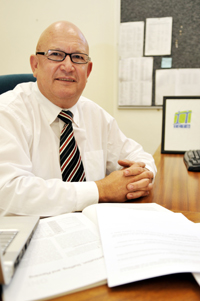 Action plan: "We remain fully committed to remedying all issues affecting the UCT GroupWise implementation in the shortest possible time" - ICTS executive director Sakkie Janse van Rensburg.
Towards the beginning of the year, problems with GroupWise and the instability of the email system at UCT were highlighted, and ICTS made a commitment to campus to address and resolve these issues. Since then quite a lot has happened, and we have made progress in a number of areas.
What progress has been made so far?
A GroupWise remediation project group, including members of ICTS and other representatives from campus, was formed to identify and address email-related problems. One of the first steps was to migrate all GroupWise components and post offices from the older Netware platform onto a more stable SLES Linux operating system.
Improvements were made to the internal system monitoring tools and an email status indicator was added to the ICTS website. WebAccess capacity issues were addressed, and ICTS engineers are on standby to offer extended support for the email system.
After the move to SLES, an audit was conducted on the entire system by external Novell engineers and their local partner. ICTS implemented their suggestions for improvement and once again the system was audited, and passed muster.
ICTS then began the process of upgrading all components of the email system to GroupWise 8, Novell's latest version. Once all the back end components of the email system had been upgraded, the latest client was rolled out to customer desktops.
A network-related problem affecting a number of services on campus, including email, was also resolved.
What is the current status?
What work is being planned?
ICTS is working directly with Novell developers to address five outstanding issues. One of the issues affects people who don't use a GroupWise client to access their email. They have been plagued by the instability of the IMAP connection to the GroupWise mail server. This is a recognised bug being dealt with by Novell, and we hope to see a solution soon.
Another issue is the instability of the student post office. Once the student examination period is over, and following a recommendation from Novell, we will split the large, single Student post office into a number of smaller post offices to improve stability and access. We will ensure that the system runs efficiently by removing old or expired student mailboxes and making sure that students don't exceed their mailbox quotas.
Three other issues are also currently being investigated by ICTS, and as soon as we have enough data we will log calls with Novell if we require their assistance. In addition, we are planning to increase the availability of the WebAccess and IMAP connections by adding resources to these components.
ICTS will chair a sub-committee of UICTC (University Information and Communication Technology Committee) with members drawn from the Academic and PASS unions and the SRC. The purpose of the sub-committee will be to determine which email system would best deliver an enterprise-class solution to the campus community. The results of the investigation will be presented to the UICTC.
---
This work is licensed under a Creative Commons Attribution-NoDerivatives 4.0 International License.
Please view the republishing articles page for more information.
---