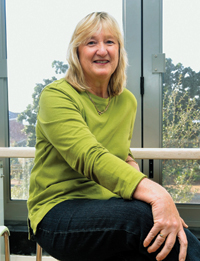 "... I don't feel in any way 'unheard or unseen'" - Dr Jennifer Broadhurst.
Chemical engineering's Dr Jennifer Broadhurst, a research metallurgist with an interest in environmental changes peculiar to the mining and minerals processing industry, entered the academic field late in life, thanks to motherhood.
"In January this year I commenced my postdoctoral fellowship in minerals beneficiation, the objectives of which are directly aligned to my career ambitions: to promote and enhance expertise and capabilities in terms of the environmental sustainability of the primary metal production sector.
"Although only six months down the road, it's been a most rewarding and exciting experience to date, with plenty of opportunities to establish myself as a credible academic researcher through the development of active collaborations with other researchers (on local, national and even international levels), and through the initiation of new projects and research areas in my field.
"I've also had the opportunity to compose or contribute to a number of journal publications and conference presentations; design and present undergraduate and post-graduate lecture modules; co-author a multi-stakeholder proposal for a South African Minerals to Metals Research Initiative; and put together a workshop for the international Worldgold 2009 Conference (to be held in October this year).
"I've received wonderful support from my mentors and principal investigator, Professors J-P Franzidis and Harro von Blottnitz, as well as other colleagues in the department, and I don't feel in any way "unheard or unseen".
"With so much going on and so much still to do, I envisage that I'll continue with my postdoc until at least the end of 2010, maybe 2011, at which stage I hope I will be able to obtain NRF rating and be in a strong position to obtain further funding to expand research activities. I think that the postdoc programme at UCT provides graduates with a wonderful opportunity to translate a high-level degree into a rewarding career - regardless of age and ambitions!"
---
This work is licensed under a Creative Commons Attribution-NoDerivatives 4.0 International License.
Please view the republishing articles page for more information.
---