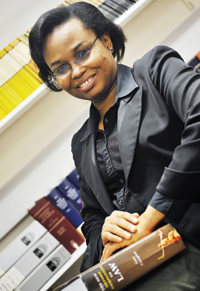 "This research gives me the opportunity to specialise in an area of law that is still at an emerging stage in Africa" - Dr Ada Okoye Ordor
With a PhD from UCT on the role of law in the development of non-profit institutions in South Africa and Nigeria under her belt, Dr Ada Okoye Ordor is continuing her research in this under-developed but pertinent area of study.
"My postdoctoral research seeks to apply the non-profit organisation model to the study of law in development, by identifying ways in which non-profit associations of civil society are useful in development processes and studying how the law can enhance their contribution," explains Ordor. "This research gives me the opportunity to specialise in an area of law that is still at an emerging stage in Africa."
A milestone in her research so far is a paper on the role of civil society associations in labour protection and administration in South Africa. This was presented at the 5th Africa Congress of the International Industrial Relations Association, which was held at UCT's Graduate School of Business in March 2008.
"Currently I am focusing more specifically on the role of non-profit agencies in promoting and protecting women's labour rights in South Africa," says Ordor. "This aspect of my research draws on case studies which show how collectives of vulnerable women workers make use of the power of association to appropriate and assert constitutional and statutory labour rights."
A part of this research is already scheduled to be presented at a workshop on Women, Equality and Constitutionalism, organised by the African Network of Constitutional Lawyers, to be held at the Faculty of Law, University of Cape Town in August 2009.
Ordor hopes that by generating knowledge and information on this subject, non-profit sector resources can be better harnessed (through partnerships with government and formal trade unions) to enhance labour administration and protect a growing proportion of vulnerable workers.
Before returning to academia to begin her PhD, Ordor gained experience in practising and teaching law, serving as a solicitor and advocate of the Supreme Court of Nigeria. After her postdoctoral work, Ordor plans a career in teaching and research in law and development.
---
This work is licensed under a Creative Commons Attribution-NoDerivatives 4.0 International License.
Please view the republishing articles page for more information.
---