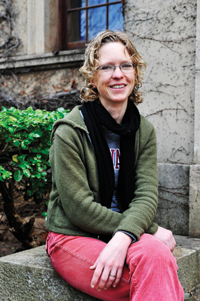 "I had always hoped my work would get further than a library shelf ... " - Dr Signe Rousseau.
Dr Signe Rousseau's postdoctoral research is the result of a combination of skills and experiences. After graduating with a master's in English at UCT, she indulged her life-long love of cooking and took to the kitchen, aiming to give up academia and become a chef.
"After a brief stint at a cooking school in Denmark, I figured out I'd rather write about the celebrity chef phenomenon," she says.
Rousseau returned to UCT's Film & Media Department in 2005, graduated with a PhD in 2008, and proceeded to dive straight into her postdoctoral work.
"I had always hoped my work would get further than a library shelf, preferably in the form of a book," she explains. "As I've discovered, this is a far cry from a thesis, so I've more or less had to rewrite the entire thing."
Provisionally titled , Rousseau's book-in-the-making examines the global phenomenon of celebrity chefs.
"The book is not a condemnation of food media or its consumers," explains Rousseau in her introduction. "It narrates the rise of the celebrity chef, and gives a critical account of some of the ways that the media determine how we think and behave when it comes to nourishing ourselves.
"The transformation of chefs into superstars is compelling because it is about much more than food. It is about how we negotiate a whole range of personal, cultural, and political choices based not on experience, or desire, or our natural appetites, but on fashion, or on fear of the 'risks' of modern life.
"One of the strangest consequences of the enormous success of the food media industry is that the more access we have to information about food and nourishment, the less we seem to know what to do with it. The most striking result of the explosion in images and representations of food over the last decades has been an explosion in the consumption of images and representations of food, and those who prepare it."
Rousseau's plans for the future are as simple as they are challenging: "I'd like to finish the book and see it published, pursue a number of other smaller publications and then hopefully get a teaching job , perhaps at UCT, and later in the bigger, wider world."
---
This work is licensed under a Creative Commons Attribution-NoDerivatives 4.0 International License.
Please view the republishing articles page for more information.
---