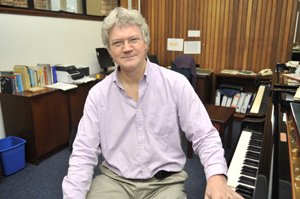 Assoc Prof Albie van Schalkwyk after 12 years at the University of the Free State, Associate Professor Albie van Schalkwyk returned to Cape Town and his alma mater in February to take up a post at UCT's College of Music.
Van Schalkwyk has established himself as a performer in a number of fields over the past 30 years. One of the leading chamber musicians and vocal accompanists in South Africa, he has also performed as a soloist with South African orchestras, given solo recitals, taught master classes for singers and accompanists, worked as a music producer for the SABC, and arranged music for various combinations, from Broadway orchestral for small ensembles to orchestral works for eight pianos.
After completing his BMus degree at UCT in 1973 , he continued his studies with a five-year stint in London.
He has been a member of several well-known SA ensembles, and a founder member of The Chamber Music Society. He was also a founding member, in 1994, of The Songmakers' Guild, and still contributes artistically to their concert series. Van Schalkwyk has been a regular panel member for several South African competitions, including the Chamber Music Competition in Stellenbosch, the UNISA National Piano Competition and the SAMRO National Singing Competition.
Please send an email to Morgan Morris to notify us of any new appointments in your departments or sections.