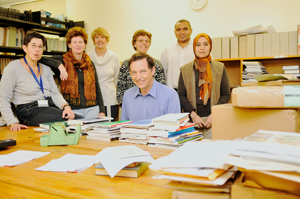 By the book: Staff at UCT Libraries Acquisition are (from left) Linda Krawitz, Lynne Finlayson, Carolyn Coombe Digby Sales, Marinette Reinke, Melshir Kortje and Fahima Gamza. (Absent is Cynthia Malotana.)
The unit is staffed by manager Digby Sales; Lynne Finlayson, who deals with book order queries; Linda Krawitz, who checks book orders; Marinette Reinke, who processes invoices; Carolyn Coombe, who captures book orders and UCT theses, as well as journal check-in; Melshir Kortje, who deals with journal orders and sets up access to the electronic resources; and Fahima Gamza and Cynthia Malotana, who both do journal check-ins.
What is the unit's specific role?
To acquire all material for all the UCT Libraries, viz books, journals, electronic resources, and audio-visual material, and to see to their arrival and payment.
What kind of volumes do they deal with?
Last year the unit processed just under 12 000 purchased books and about 2 000 books that were donated.
"We checked in over 25 000 print journal issues and we ensure electronic access to approximately 35 000 full-text journals," explained Sales.
What do you do on day-to-day basis?
Members place book orders with local and overseas suppliers every Friday. Finding the correct publishing details can be challenging. They also receive consignments of books and journals at least once a week. The print journal issues are recorded on Aleph, the online catalogue, and passed on to the shelves. The books are then sent to the cataloguing section, while invoices are passed on to library accounts for payment.
What are the challenges facing the section?
The biggest challenge is moving UCT Libraries' current collection from a print to an electronic version. From next year the majority of journal subscriptions will be available only electronically. Ensuring access to these journals remains a priority to meet the needs of users.
What are the best and the worst moments of your work?
The best part of the job is seeing the growing user-satisfaction in the collections, both through feedback from users and the number of users in the libraries. The worst part is responding to academics who want to have a book in the library next week when it takes three to five weeks to get a book from Europe or North America, where most of the books are published.
What is a weirdest thing you have encountered?
Sometimes the unit receive amazing parcels. A recent parcel addressed to the section was to "Transler Uppenhighner Library".
---
This work is licensed under a Creative Commons Attribution-NoDerivatives 4.0 International License.
Please view the republishing articles page for more information.
---