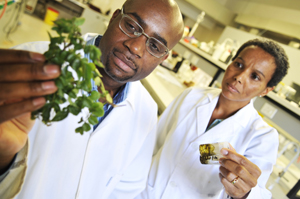 Offshoots: Prof Kelly Chibale and postdoctoral fellow Dr Denise Saravanakumar examine plant material that could provide leads for new antimalarial drugs.
Researchers using plants to find novel compounds for antimalaria drugs have received a R3.6 million grant from the Medicines for Malaria Venture (MMV), covering the first year of work on recently unearthed data from a massive World War II antimalarial plant screening programme.
The MMV, a not-for-profit foundation based in Geneva, Switzerland, has developed the largest-ever pipeline of antimalarial drugs in development, with over 50 projects being financed in laboratories on every continent.
"From a research and development perspective, the MMV has embraced the recent refocusing on tools for malaria elimination, and has new programmes in transmission blockade, intermittent preventive treatment protocols and liver stages of Plasmodium vivax infection," said principal researcher Professor Kelly Chibale, of UCT's Department of Chemistry and the Institute of Infectious Disease and Molecular Medicine.
Professor Peter Smith of the Division of Clinical Pharmacology is the other UCT principal researcher on this MMV project.
The R3.6-million research grant will underpin follow-up work on the antimalarial plant screening programme conducted by Merck and Company from 1942 to1947.
It also supports a research partnership on this project between UCT and Rutgers and North Carolina State Universities in the US.
"What started as a collaboration between these three institutions under the Global Institute for Bioexploration (GIBEX) to bring novel Screens-To-Nature (STN) technologies to bear on drug discovery from general biodiversity, including plants, has had many positive spin-offs so far, including this latest MMV grant," said Chibale.
Chibale holds the South African National Research Chair in Drug Discovery under the South African Research Chairs Initiative. He is also director of the South African Medical Research Council Drug Discovery and Development Research Unit.
During World War II the Japanese navy blocked Allied trade routes, disrupting the world's supply of quinine, which was widely used to treat malaria, particularly among American troops in Africa and the South Pacific.
To counteract this, the US government upped funding to government, public and private organisations to synthesise new antimalarial drugs from natural sources. Many well-known drugs resulted, including synthetic quinine derivatives, developed by the US Army and still in use.
Among this research was a Merck Pharmaceutical Company collaboration with the New York Botanical Garden. This project screened more than 600 native, or \'traditionally used\', antimalaria plants for phytochemicals with similar or greater efficacy than quinine.
The result was a 1947 publication identifying nearly 100 species with antimalarial significance. After the war, and the advent of synthetic antimalarials, this data was consigned to "scientific limbo" for over 60 years.
One of the remaining Merck antimalaria researchers, Christine Malanga Wilson, saw a Star ledger article on GIBEX's work on antimalarial plants and forwarded a copy of her 1947 article to Professor Ilya Raskin of Rutgers.
Ruskin is also president of GIBEX, and therefore contacted Chibale in his capacity as chief co-ordinator of GIBEX-Africa. A decision was made to develop a proposal, in partnership with Smith and Professor Mary Ann Lila of North Carolina State University, for submission to the MMV for funding consideration.
Working with Chibale and Smith, GIBEX researchers have been able to confirm the results of this 64-year-old Merck study.
"It's a massive and very exciting programme," Chibale said.
---
This work is licensed under a Creative Commons Attribution-NoDerivatives 4.0 International License.
Please view the republishing articles page for more information.
---