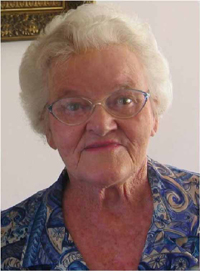 Amy Read, wife of the late former registrar, Leonard (Len) Read, died in October at the age of 90.
Read was born in Johannesburg in 1918 and after matriculating from Collegiate in Port Elizabeth, and a stint working at the Post Office, she took a job at UCT. She met Len in 1952.
Len wrote of this encounter: "I met Amy when she was working at the Jagger Library and I had quite a lot of business contact with her. I was impressed with her abilities and responsible approach to her work - so I asked her to transfer to my office in the UCT administration. She was somewhat aloof for a while but thawed in the end!"
They married on 21 August 1954 and had two children, Amelia ("Jo") and George, both UCT graduates, Jo with a BA and Higher Diploma in Librarianship and George with a BSc in geology.
Recalling those early years, Jo said that her father and mother would tease each other by quipping that Amy went to work for Len - and worked for him for the rest of her life. The couple celebrated their golden wedding anniversary in 2004.
The two also played their part in the establishment of the Baxter Theatre Centre, which opened its doors in 1977, just a year before Len stepped in as registrar at UCT. While their father was the frontman for the couple, mom, a behind-the-scenes person, was always very supportive of the project, recalls Jo. (Dad Len even had George, between university studies and his first job, doing some menial labour on the building site.) A seat in the theatre bears a plaque with their names.
Read was also exceptionally proud of younger brother Allan Cormack's work to develop the technology that underpinned the development of the CAT scanner. It was in 2002 that she made the trip to Pretoria to receive the Order of Mapungubwe, awarded posthumously to Cormack, from President Thabo Mbeki.
Cormack's life and work is the subject of a recent book by deputy dean of research in the Faculty of Health Sciences, Professor Kit Vaughan. When the book was launched, the guest of honour was Read herself.
Speaking at her memorial service, Vaughan said he had met Read 25 years ago when Len was the registrar at UCT.
However, it had only been in the past 10 years that he had come to know her really well.
"When we decided to create a research unit in medical imaging at UCT that would honour the contributions of her younger brother Allan, Amy was our most enthusiastic supporter."
---
This work is licensed under a Creative Commons Attribution-NoDerivatives 4.0 International License.
Please view the republishing articles page for more information.
---