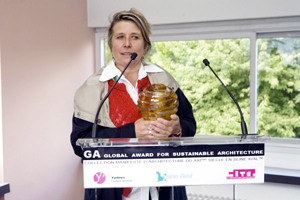 UCT alumna Carin Smuts (top), winner of the 2008 Global Award for Sustainable Architecture.
UCT architecture graduate Carin Smuts (BArch, 1984) has brought home the coveted 2008 Global Award for Sustainable Architecture, announced in Poissy, France.
As the winner, Smuts has been commissioned to build the second project in the Seine-Aval Architecture Manifesto-Collection, a multipurpose centre that will revitalise the small French town of Follainville-Dennemont.
The project she has been commissioned to design in Follainville- Dennemont, 50km from the centre of Paris, is a small community facility.
"We will follow the design process we use with all our projects and this will lead to a unique, appropriate solution for the village and France."
The first project, a rural lodge in Chanteloup, has been commissioned from the 2007 winner Hermann Kaufmann, and will open in 2009. Smuts runs her own architectural practice in the Mother City.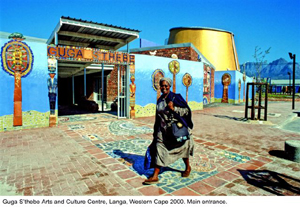 Guga S'thebe Arts and Culture Centre in Langa is one of Smuts' designs.
"Our work at CS Studio Architects is grounded not only in technologically sustainable built environment and landscape solutions, but we put an emphasis on the social process," Smuts explained. "Our philosophy is that participation leads to empowerment, which results in more sustainable solutions."
After early ambitions to be a doctor, Smuts chose to study architecture, believing that this career would enable her to make an "even greater difference to society".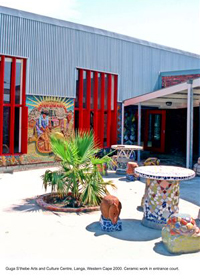 Smuts has worked in the townships, still excluded from much of the development happening elsewhere, since 1989.
With extremely small budgets, she builds amenities, housing and services, not only for but with the communities.
"They work with her to establish the programme, and then build and manage it themselves. A Carin Smuts project generates more cultural energy than it uses materials," said a competition statement.
Like Bengali Muhammad Yunus invented micro-loans, Smuts favours sustainable micro-development. "Do local: materials, details, labour."
Born in 1960 in Pretoria, Smuts comes from a family of politicians and philosophers. Her great-uncle was Jan Christiaan Smuts.
Is the architecture she practises sustainable? She says it is, emphasising how "a sense of economy, an intelligent use of materials, are the very ethics of architecture. But to build in the townships, people must first be able to express a need, formulate a programme, know how to put it into practice.
"Experience has taught me that this is impossible if people have not regained their own freedom. For me, architecture is simply the means for these people to regain charge of their own lives. Our work is about people."
The School of Architecture, Planning and Geomatics' Iain Low described Smuts' award as "remarkable in that it recognises human sustainability and not simply climatic / energy efficiency".
"This is critically relevant for the discourse around sustainability in Africa where [human] development is a priority."
Smuts has a somewhat controversial profile in Cape Town where her office-cum-home on Ocean View Drive drew criticism from the public after "blikkiesdorp on Ocean View Drive" appeared as graffiti on her wall.
"Her work has always attempted to use local materials in new and innovative ways," Low said.
Vice-Chancellor Dr Max Price said he was delighted by the news, saying Smuts' award recognised not only her international and world-class work, but also her distinctly African solutions to the design and sustainability challenges of the developing world.
"As a university we need to develop a unique niche with a comparative advantage. It's this that will help our scholars and students make their mark on world scholarship."
---
This work is licensed under a Creative Commons Attribution-NoDerivatives 4.0 International License.
Please view the republishing articles page for more information.
---