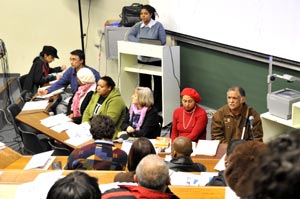 New tech: Delegates at this week's Spring School, a new initiative at UCT's Centre for Open Learning.
In a shrinking world characterised by leaps in technological advancement, South Africans must develop the skills and knowledge to cope.
Continuing education and training and personal development can enhance and change a country's economic and social landscape, says Adrian Strydom, director of UCT's Centre for Open Learning (COL).
To this end, the new Spring School initiative, run for the first time this week, will see the COL team up with the Fundamentals Training Centre (FTC) to provide quality learning at affordable rates.
"South Africa spends more than most developing countries on education and training," Strydom said. "However, we must continuously question and challenge the efficiencies of the delivery of education and training to ensure that we get the most out of every rand invested."
The Spring School, a first for UCT and the FTC, will offer a wealth of training resources, programmes and experience. In addition to the scheduled courses, the lunch-time activities will focus on capacity building in civil society, culminating in a Friday event where key stakeholders will consider steps to bringing about systemic positive change. The theme for these activities will be Towards Rebuilding a Platform for Civil Society Engagement. A range of civil society agencies will participate.
The Spring School will coincide with the Learning Cape Festival, themed Economic Development in a Learning Province.
---
This work is licensed under a Creative Commons Attribution-NoDerivatives 4.0 International License.
Please view the republishing articles page for more information.
---