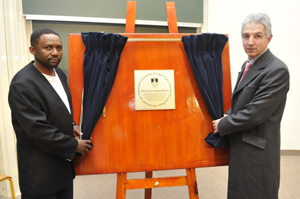 Remembering: Xolani Mafeje, son of the late Prof Archie Mafeje, and Vice-Chancellor Dr Max Price unveil the plaque that will adorn the newly named Archie Mafeje Room, formerly the Senate Room, in Bremner Building.
A plaque was unveiled by Xolani Mafeje, son of the late Professor Archie Mafeje, at a symposium in the Kramer Law Building last Monday night. It will be installed at the old Senate Room, which will be renamed the Archie Mafeje Room.
The symposium, Lessons of the Mafeje Affair, was hosted by the Academic Freedom Committee to mark 40 years since UCT appointed and then withdrew the appointment of Mafeje as senior lecturer in social anthropology.
The event drew wide protest and became a blot on the university's record of academic freedom.
Some 1 000 UCT students and staff staged a nine-day sit-in in the Senate Room to protest Council's decision.
Students who participated in the sit-in gathered at UCT to commemorate the event this past weekend.
The symposium was part of Vice-Chancellor Dr Max Price's installation programme.
Chaired by UCT's Andrew Nash, associate professor in the Department of Political Studies, it featured speakers Professor Fred Hendricks of Rhodes University, UCT Professors Ken Hughes and Lungisile Ntsebeza, and Emeritus Professor Francis Wilson. (Members of Mafeje's family, pictured below, also attended.)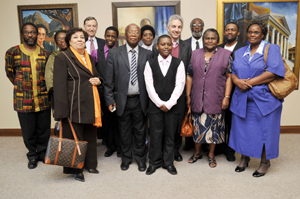 Rebuilding bridges: Assoc Prof Lungisile Ntsebeza (UCT), Dorothy Nomabhele, Prof Shahida El-Baz, Duncan Innes (part of 1968 sit-in group), Lumko Nkanyuza-Mafeje, Marshall Swana, Nandipha Mafeje, Lungisa Nkanyuza-Mafeje, VC Dr Max Price, Mlamli Mzwandile, Nomfundo Noruwana, Xolani Mafeje and Constance Swana. Not in picture is daughter Dana Mafeje.
According to Hendricks, UCT Council's decision to withdraw Mafeje's appointment amounted to "collusion between the apartheid state and the University of Cape Town".
UCT, said Hughes, was "blackmailed" by the government, but UCT's bowing to demands had cost the university. "In a hostage situation, nobody's hands stay clean."
In turn, Ntsebeza outlined some of the "flawed" selection processes that saw Mafeje's application for appointment in the 1990s rejected.
It was this, and other events in the 1990s, that lie at the heart of Mafeje's resentment towards UCT, suggested Ntsebeza. The later offer of an honorary doctorate was perhaps "too little, too late".
Wilson said it was "totally unacceptable" for the university Council to have buckled to government's veiled threats concerning Mafeje's appointment. In doing the government's dirty work, the Council had contaminated itself, he said.
More serious was the damage done by not having Mafeje teaching, writing and researching at UCT "for 10, 20, 30, even 40 years".
"[The incident] showed how isolated South Africa has been - and still is - from the rest of Africa. In the social sciences, for example, the debates in which Archie Mafeje was so vigorously engaged all across the continent, from Dar es Salaam to Cairo, to Dakar, to Harare, have not really been worked through adequately by the South African universities."
---
This work is licensed under a Creative Commons Attribution-NoDerivatives 4.0 International License.
Please view the republishing articles page for more information.
---