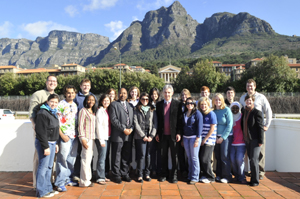 Making contact: VC Dr Max Price has met with a few visitors since he took office on 1 July, among them students on the Vanderbilt Summer Programme, hosted at UCT in partnership with Vanderbilt University, Tennessee, US. Price and DVC Prof Thandabantu Nhlapo, fifth from left, front row, took some time out for a photo with the students.
Unlike the crash course on UCT that I took in my application process, my formal introduction to the university over my first days and weeks as Vice-Chancellor has been, by comparison, a gentle one.
For that, I should thank former Vice-Chancellor Professor Njabulo S Ndebele, Professor Martin West and the university executive. I am, I believe, one of the few incumbents to have enjoyed a comprehensive transition and handover. There were still hands on the ship's wheel when I got here, and that induction period has proven to be invaluable to me.
I still have a lot to learn about UCT's unique character, and I plan to spend the first three months of my term getting a feel of the land - how UCT operates, it's much-discussed institutional climate, how we tackle society's big issues, how we tackle our own issues, what we do right, what we don't, what needs to be fixed, what needs to be tweaked, and what simply needs to be applauded and supported.
This by no means implies that UCT as a university will be marching on the spot during this period, and I will make sure that the university continues to operate efficiently and smoothly.
But, of course, I have my own particular ideas of where I would like UCT to go over the next couple of years, points I stressed in numerous meetings in the application process.
This includes transformation, where I believe we've laid the right foundation for progress. I recently got thrown into the deep end of the issue, if I may call it that, when I attended a Khuluma workshop. I was encouraged by the manner in which staff felt they could speak openly about the topic and by the commitment of staff members, of all ilk, to transformation, but also disheartened by the sense that many black staff still do not see UCT as a place and employer they can take pride in. But Khuluma is without question one of those initiatives that I spoke about earlier, that merit our applause and support.
Another issue that I take a special interest in is UCT's role in South Africa, Africa and the rest of the globe. UCT's commitment, from scholars to administrative & support staff and students, to social responsiveness is remarkable, and well in keeping with the mission of a socially responsible university in a fledgling democracy. But as impressive as our track record is, we can - as many have told me - do more.
We are also in an enviable position - pole position, in fact, going by several national and international rankings - as an African university to do much for our continent. I have been very vocal on my position that UCT should become the university of choice for international scholars who want to learn about Africa. We have everything and more that can be expected from a university in a cash-strapped developing nation - including, surely our greatest strength, some of the continent's and world's finest scholars. And while many may snort at the suggestion, we have an infrastructure second to few on the continent. (Speak to visiting scholars from other parts of Africa and you can hear the awe when they speak of our libraries, our facilities and, yes, even our access to the internet.)
We should surely make the most of this advantage.
I see a UCT that has become the hub of the south, and a UCT that can compete on equal footing with the ivy-league institutions in the north, without trying to be a clone of these institutions. I see us, rather, bringing our own distinctive perspective to intellectual partnerships and engagement.
On my international visits over the past months, I've seen the big picture. Now I need to home in on more domestic concerns, and I will be visiting a number of departments over the coming months. As a vice-chancellor of such a sprawling campus, it's going to be difficult to visit every department and meet with every staff member but I'm going to come as close to that as I possibly can.
And as was reiterated at Khuluma, the first part of engagement is to listen.
---
This work is licensed under a Creative Commons Attribution-NoDerivatives 4.0 International License.
Please view the republishing articles page for more information.
---