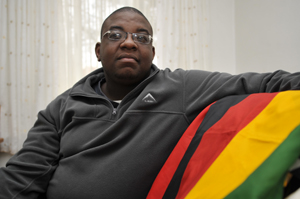 About protest: In his master's dissertation, Glen Mpani looked at popular protest in Zimbabwe.
Zimbabwean Glen Mpani, who graduates from the Department of Political Studies this week with a distinction for his master's dissertation, didn't have to look far for inspiration.
In his study, Mpani described the levels of popular protest in Zimbabwe and then developed a model to explain who protests and who doesn't.
"My interest was motivated by an unprecedented political and economic crisis which has existed over the last eight years," says Mpani.
He also wanted to understand why Zimbabweans were not taking part in protests - defined as anything from stay aways, boycotts and closing businesses to attending demonstrations or marches - "despite what would seem like a conducive environment".
Contrary to standard models, it was not the unemployed or the working class who protested in Zimbabwe, but rather the urbanised, the young professionals, the educated and the economically secure, says Mpani. Added to this, skilled professionals have become part of the diaspora, stifling the protest potential even further.
This raises questions about the strategies of civil society and opposition in the country to mobilise Zimbabweans, notes Mpani.
Also, stated unwillingness to take part in protests has jumped from 50% in 1999 to 65% in 2006. In fact, only 8% professed to participating in protest action in 2006.
"Yet the declining trend in protests stands in sharp contrast to increasing levels of popular dissatisfaction with the economy and political system," he says.
Mpani is currently working on his PhD.
---
This work is licensed under a Creative Commons Attribution-NoDerivatives 4.0 International License.
Please view the republishing articles page for more information.
---