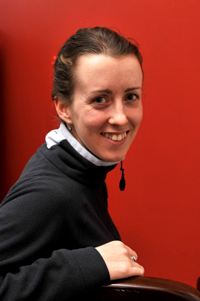 South African history teachers are in a rare position when teaching about apartheid, as many of them are both teachers and first-hand witnesses of history.
Sofie Geschier of the Department of Historical Studies focused her thesis, titled The Empathy Imperative: Primary narratives in South African history teaching, on this much neglected dynamic.
Geschier's thesis presents a case study on how grade-nine history teachers and museum facilitators use their personal experiences, for example in the form of first-hand accounts in teaching subjects such as apartheid and the Holocaust.
During her five years of research, Geschier took two years to interview 12 museum facilitators and 26 grade-nine teachers from 19 schools. She spent many months in classrooms, observing teachers interact with their learners.
"It's not about judgment," Geschier stresses. "It's about examining how people teach."
The central finding of Geschier's study is that interactions between teachers and learners are far more complex than theories suggest. Unsurprisingly, teachers expressed their personal experiences of apartheid. This took various forms - and was not always to the benefit of their learners, or to the "never-again" imperative.
The study examines the possible reasons for these complexities, and argues that history educators may benefit through interaction with each other, and addressing the challenges they face.
"We must remember that teachers are people too," says Geschier.
---
This work is licensed under a Creative Commons Attribution-NoDerivatives 4.0 International License.
Please view the republishing articles page for more information.
---