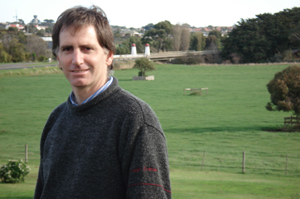 Water wise: DPhil graduand Pierre Mukheibir's thesis examines the inter-relationship between water, climate change and small towns.
Small towns in the western parts of South Africa will be particularly vulnerable to the drier conditions expected in the wake of climate change, says Pierre Mukheibir.
His DPhil thesis in the Department of Environmental and Geographical Sciences examines the inter-relationship between water, climate change and small towns by asking three questions: can climate change be integrated into existing planning frameworks? Can small towns build resilient strategies against projected climate change impacts? And, is adaptation to climate change an economic issue?
Mukheibir used Bredasdorp as a case study as it is typical of small towns in South Africa's semi-arid regions.
He says it's evident that there is little strategy of synergy between the various sectors for dealing with water access. His thesis introduces a framework, Water Resources Adaptation Planning (WRAP), designed to take municipal and water planners through a process of identifying the hotspots in terms of both climate and social vulnerability, to develop a suit of options to cope with the impact of climate change on their water resources.
Mukheibir suggests that small towns should develop their water adaptation responses by including an assessment of existing climate variability responses.
By screening these against quantitative and qualitative criteria, planners can identify robust strategies for ensuring sustainable water supplies.
Looking at Bredasdorp, Mukheibir demonstrated that within 30 years, even under a conservative scenario of a modest reduction in rainfall and static levels of poverty, the costs of matching water demand and maintaining safe access to safe water for the urban poor will exceed the resources usually available to small municipalities.
"In order to meet the same water demand under climate change conditions, as compared with normal climate conditions, the investment cost quadruples over a 30-year period."
This, in turn, would result in an increase in the average unit selling price of the water increasing by 25%.
He believes the framework developed in his thesis is a tool that can be used by water managers.
"It is hoped that it will be considered by planners when undertaking future water-service development plans."
---
This work is licensed under a Creative Commons Attribution-NoDerivatives 4.0 International License.
Please view the republishing articles page for more information.
---